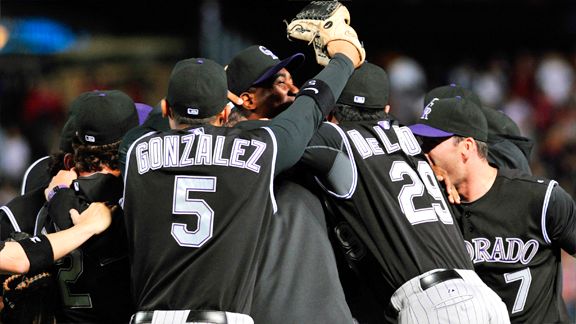 AP Photo/Gregory Smith
Ubaldo was also first in the majors to record six group hugs.
Last week, the Lakers and Suns took control of their Western Conference semifinal series, the Reds became the late-inning kings, and an MLB veteran went the distance. What do all these feats add up to? Zero (speaking of which, there are zero shopping days left till Mother's Day, folks … thank goodness for ecards!).
0 – Runs allowed by Rockies starter Ubaldo Jimenez over 16 and a third innings after his April 17th no-hitter. That's the longest scoreless inning streak immediately following a no-hitter since Cy Young himself threw 22 straight after a perfect game back in 1904. Jimenez's scoreless streak ended in the fourth inning of a 5-2 win over the Padres Monday night. In the game, he became the first six game winner in the majors this season.
0 – Playoff series lost by Lakers coach Phil Jackson after his teams take a 2-0 series lead (he's 34-0). The Lakers did just that in the Western Conference semifinals against Utah, beating the Jazz, 111-103, Tuesday night. Jackson is also 45-0 in playoff series in which his team wins the first game (which obviously, the Lakers did).
0 – Extra-inning games lost by the Cincinnati Reds this season (in four chances) after a 5-4 victory over the Mets on Wednesday. Orlando Cabrera hit his fifth career walk-off homer to give the Reds the win in the 10th inning, just two days after the Reds beat the Mets, 3-2, in 11 innings. Nine of the Reds' 14 wins this season have come in their final at-bat, a major league best.
0 – Times in NBA history that a team has taken a 3-0 lead in a best-of-seven series and not won the series. This is good news for the Suns, who went up, 3-0, on the Spurs with a 110-96 win in Game 3 Friday. The win marked only the second time in franchise history that the Suns have had a 3-0 advantage in a best-of-seven series. Phoenix and San Antonio play Game 4 tonight at 8 (ET).
0 – Runs allowed by Phillies pitcher Jamie Moyer, who threw a 7-0 shutout to beat the Braves on Friday. With that performance, Moyer – who is 47 years and 170 days old – became the oldest pitcher in MLB history to throw a shutout and the second-oldest to throw a complete game.