Senators Speak Out Against Arizona Law
Senator Robert Menendez (D) from New Jersey is urging the MLBPA to boycott next year's All Star game, scheduled to take place in Phoenix, Arizona. Menendez said in a letter to the organization that 27 percent of MLB players are Latino, and they shouldn't be subjected to a law that he believes encourages racial profiling. Senator Jose Serrano (R) from New York echoed that sentiment, noting that in 1993 the NFL pulled Arizona off the list of potential Super Bowl sites because the state didn't then recognize Martin Luther King Day as a holiday.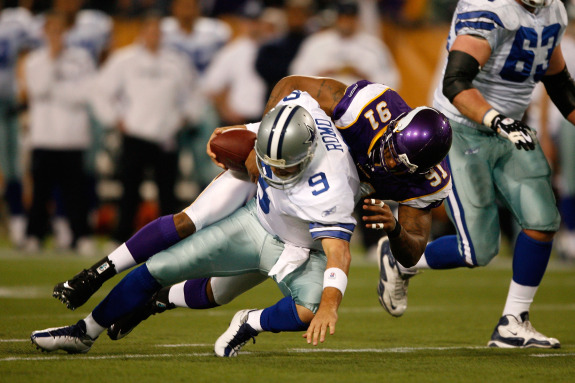 Elsa/Getty Images
Minnesota Vikings DE Ray Edwards will not participate in the team's off season workouts, voluntary or otherwise, mainly because of his contract situation. Edwards was scheduled to become an unrestricted free agent this season but the rules under the NFL's uncapped season made him restricted. He was tendered at the 1st round level, meaning he will get paid $2.5 million this season if no long-term agreement can be reached. The Vikings have made no attempts to trade the star defensive end, so Edwards may have no choice but to play this season and wait for his big pay-day next year when there will presumably be a new CBA in place.
Fabregas and Torres Make the Roster
Cesc Fabregas and Fernando Torres were included on Spain's initial 30-man World Cup roster as they try to recover from injuries in time for the tournament. Spain coach Vicente del Bosque announced their spots on Monday, but he has until June 1st to cut his roster down to 23 players. Fabregas and Torres have been fixtures for the Spanish national team for the past four years.