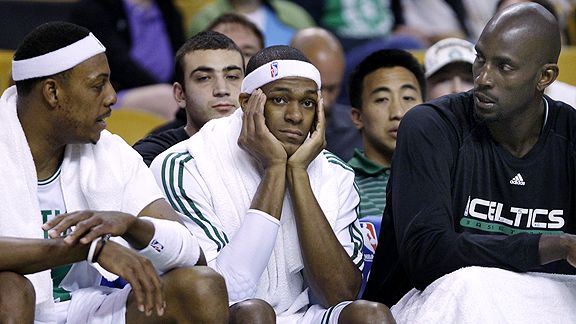 AP Photo/Charles Krupa
"Don't worry, Rajon. As soon as the game is over, you can put your skates back on."
The talk around Beantown (and, to be honest, around Bristol) come NBA playoff time usually revolves around the Big Three. But this year, the buzz is swarming around Celtics point guard Rajon Rondo.
And not without merit. The fourth-year player out of Kentucky tallied 19 assists last Monday (tying a franchise playoff record) in Boston's Game 2 victory over Cleveland. Last Friday in a Game 3 loss, he had 18 points and eight assists. And in a series-saving Game 4 Celtics win Sunday, he totaled 29 points, 18 rebounds and 13 assists — a line that not only had the Boston crowd chanting, "MVP" a little too late, but also made Rondo only the third player in playoff history to have at least 29 points, 18 rebounds and 13 assists. The two others? Oscar Robertson (32, 19, and 13 in 1963) and Wilt Chamberlain (29, 36, and 13 in 1967). Not too shabby.
As Rondo and his Celtics get set for tonight's Game 5 in Cleveland, we thought this was as good of a time as any to get to know him a little. So here we go. A List of Things That We Feel Are Imperative That You Know About Rajon Rondo.
Rondo Has Always Liked to do the Dishes
Rondo's been the assist man since his high school days at prep basketball power Oak Hill Academy. He holds the school records for assists in a season (494) and assists in a single game (31). Not bad when you consider 10 former Oak Hill Warriors are/were playing in this season's NBA playoffs.
Cheetahs Don't Stand a Chance Next to Rondo
OK, they do. But still, Rondo is fast. And he knows it. Word is, he let it slip in the locker room that he could beat Titans running back Chris Johnson in a race and was willing to put $2,000 on the line to prove it. Johnson found out and challenged Rondo back on twitter. Alas, we're still waiting for them to settle it on the track. But Rondo didn't need to prove himself against Johnson before stepping up his trash talk, boasting he might just challenge Usain Bolt in the 2012 Games. And speaking of speedy, Rondo's not just fast on foot. He's also been known to pull up to the Garden in Red Bull race cars.
What is this, "Lost"?
As you can see from this little tour of Rondo's house, he lives in house No. 9., same as his Celtics jersey number. The weird thing is, Rondo's house number used to be four, but the owners before him changed it. The even weirder thing is, Rondo wore the No. 4 all through college, high school, middle school, and elementary school (so he says)! If that's not straight out of "The Twilight Zone," we don't know what is.
People Shout "Rondo! Rondo! Rondo!" when he goes out to eat
Just watch the beginning of this video. And speaking of eating, his favorite food is – get ready because it's gross – a mixture of beans, hamburger, onions, maple syrup, garlic sauce and peppers (again, watch the same video from the 2:40 mark). Rondo claims it's good, and that Kendrick Perkins and Tony Allen can testify to that fact. We're not sure we're buying either claim.
The Kid's Got Wheels. Literally.
Who roller skates anymore? Rajon Rondo, that's who. He picked it up in the offseason, and now he's so good that he does routines with his friends back in Louisville (with Danny Ainge's permission, apparently). Seriously. He's good. Check him out. So, if the whole NBA star thing starts to bore him, perhaps a career in Roller Derby? Here's hoping.