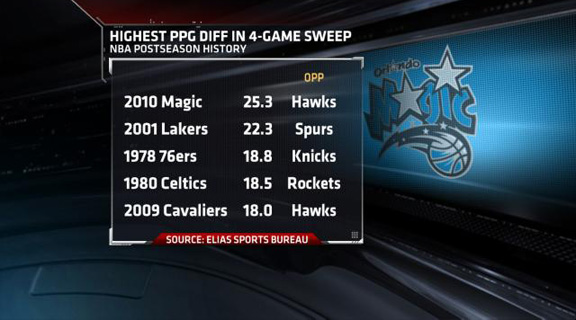 MAGIC POUND HAWKS: The Magic make the Hawks disappear in 4-straight, beating them by over 25 points per game. The Magic set the NBA record for the largest margin of victory in a 4-game sweep in NBA history, beating the previous mark by 3 ppg. Now that's a BRUTAL pounding.
Game Recap | Box Score | Highlight
After the jump, more impressive numbers detailing the Magic's sweep of the Hawks and why the Yankees regret not-resigning Johnny Damon.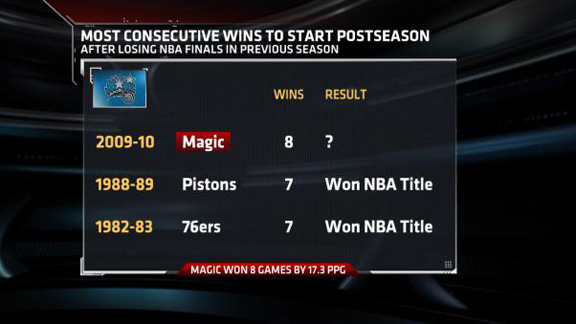 MAGIC STREAKING: The 8 consecutive wins by the Magic to start the postseason is most ever by a team that lost in the NBA Finals the previous season. A good omen for Orlando - the other two teams that had won 7 in a row, the 1989 Pistons and 1983 76ers, went on to win the NBA title.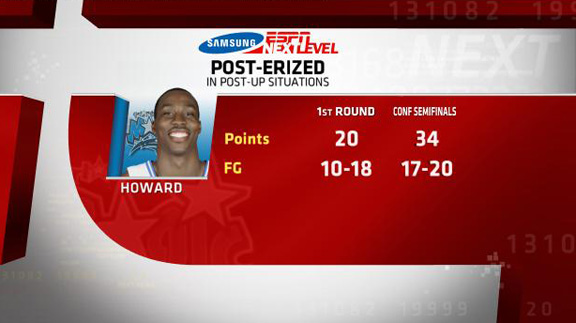 TAKING HOWARD TO THE NEXT LEVEL: Dwight Howard was solid in post-up situations in the Magic's sweep of the Bobcats in the first round hitting 10 of 18 attempts. Against the Hawks he was flat out dominant, making 17 of 20 shots for 34 points. The big man will have some time to res-up while the Boston and Cleveland continue to pound one another in the playoffs.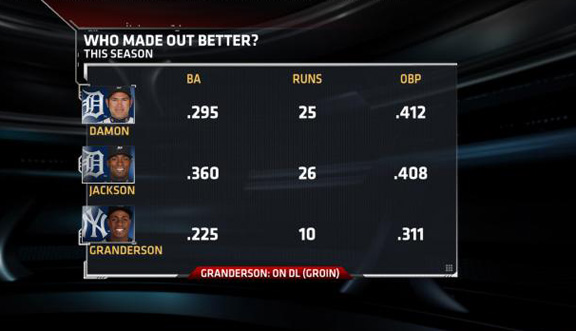 WE MISS YOU: Johnny Damon, who the Yankees elected to not to re-sign after last season and Austin Jackson, one of the players the Yankees gave up to get Curtis Granderson have been outstanding for the Tigers this season while Granderson is on the disabled list. Damon becomes the first player since Billy Martin to help the Yankees win a World Series and then hit a home run in his first game against them the next season.
Game Recap | Box Score | Highlight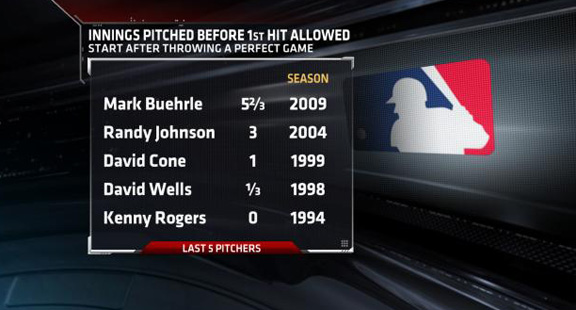 RIDING A HOT HAND: The last 5 perfect games have seen an increase in hit-less innings pitched in the starter's following appearance. In 1994, Kenny Rogers gave up a hit to his 1st batter faced after throwing a perfect game. Last season, however, Mark Buehrle pitched 5 2/3 perfect innings before allowing a walk and a hit with 2 outs in the 6th inning.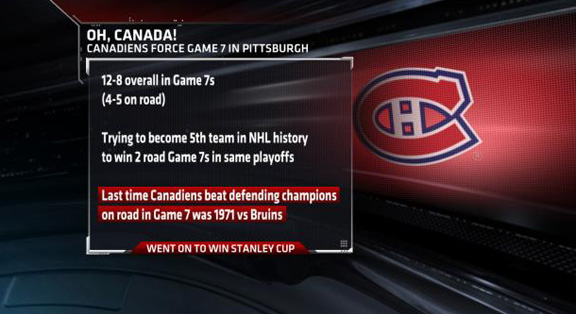 GET READY TO RUMBLE: The Canadiens force Game 7 in Pittsburgh. They're 12-8 all-time in Game 7s, including this year's win at Washington. They're trying to become the 5th team in history to win 2 road Game 7s in the same playoffs. Plus, the last time they won Game 7 on the road against the defending champs was in 1971 -- they went on to win the Cup that year.