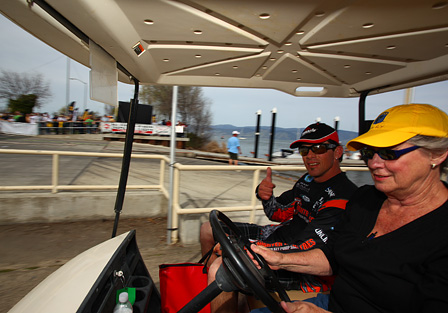 James Overstreet
"That's good, now pull over here and parallel park."
In Hollywood, flipping a golf cart will gross you $64,255,312 domestically, but in the state of Oregon it will cost you $750 and 130 hours of community service. Former OSU quarterback Lyle Moevao, former OSU linebacker Keaton Kristick, and OSU starting defensive tackle Brennan Olander received the aforementioned punishment for stealing an athletic department golf cart, flipping it, and leaving it parked near an off-campus apartment complex. The incident occurred back in March, but the sentencing took place on Tuesday. To prevent future golf cart joyrides, Oregon State University should consider investing in an armored golf cart.
Moevao told the judge, "I didn't mean to harm anyone or violate any rules or regulations. ... It was a night we were trying to have some fun, and obviously, it was the wrong kind of fun." Apparently Moevao and crew were unaware of the unwritten rules of cart driving.
Under the proper supervision, cart driving can be an invigorating experience -- just ask Marshawn Lynch. After scoring a game-winning overtime touchdown against Washington back in 2006, Lynch grabbed the keys to the University of California athletic cart and celebrated his TD with a victory lap around the field. His celebratory drive was supervised by 70,000 fans in attendance.
And if you don't have proper supervision, a suitable excuse is a must. Back in 1989, after spotting Lynn Wells in the stands, Cleveland Indians catcher Jake Taylor had to act fast if he wanted gain the affection of his love interest. Dressed in full catcher attire, Taylor hopped into the Chief Wahoo Bullpen Car and followed Ms. Wells back to her place. The next day, Indians Manager Lou Brown accepted Taylor's explanation and the journeyman catcher was slotted in the lineup the very next game.
Former Beavers linebacker Keaton Kristick signed a free-agent contract with the 49ers and is due in training camp this June. For his role in the OSU golf cart escapade he was ordered to complete 25 hours of community service. Of course, using the 49ers athletic cart to travel to community service is not an excuse that will fly under Mike Singletary's watch.