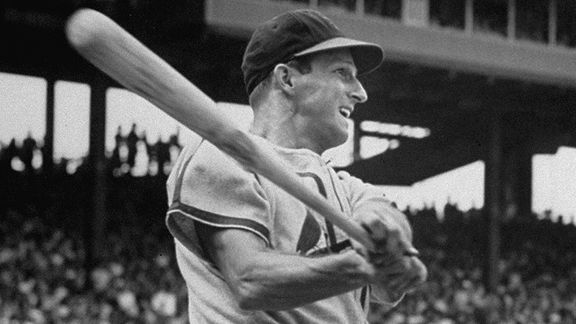 Hank Walker/Time Life Pictures/Getty Images
"Do I get a movie deal for this?"
May 13, 1958: Stan Musial wasn't supposed to get his 3,000th hit till May 14. After knocking No. 2,999 on May 12, the plan was for Musial to sit this game against the Cubs out so he could break the 3,000 mark in front of a home crowd in St. Louis the next day. But the game got in the way. And Musial, who was called in to pinch hit, hit No. 3,000 in the form of an RBI double.
Stan the Man came into the game with St. Louis down, 3-1, in the sixth. But his double sparked a four-run inning for the Cardinals, who went on to win the game, 5-3.
Breaking the 3,000 hit mark was hardly Musial's only claim to fame in his 22-year major league career. Stan the Man was the first to play in more than 1,000 games at two different positions (outfield and first base), he won seven batting titles, three National League MVP awards (he was the first to do so) and in 1948, he missed winning the Triple Crown by one home run. He batted over .300 in each of his first 17 seasons in the bigs and finished with a career average of .331. When he retired in 1963, he also held NL records for games, at-bats and hits. Not bad for a player who started in the minors as a pitcher.
Only 27 other players in the majors have knocked 3,000 hits, and Musial currently sits fourth on the all-time list (with 3,630) behind Pete Rose (4,256), Ty Cobb (4,191) and Hank Aaron (3,771). Read more about Stan the Man here.