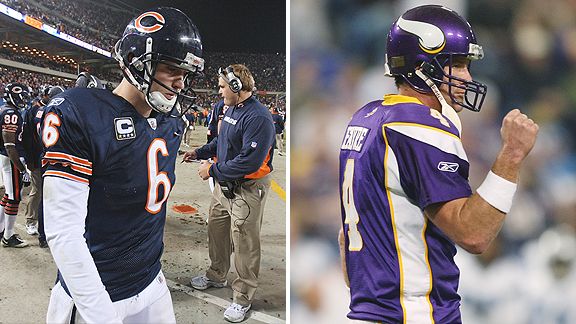 Photo: Getty Images
Culter and Favre both keep their guns loaded but only one has been shooting accurately this year.
For NFL QBs, the branding of "gunslinger" implies a big arm and a propensity to use it, even if the odds are stacked against you. Today's Bears-Vikings match-up features an intriguing contrast of extremes as the two QBs have spent the better part of this season demonstrating the best and worst that comes with having a 'slinger at the helm.
Brett Billy the Kid is in the midst of an MVP season with 21 TD's (including this gem against the 49ers) and only 3 interceptions, numbers that seem amazing when you consider the fact that Favre is NFL's all-time interception leader (313), and even more amazing when you consider his Wrangler commercial. Sure Favre leads his team of ruggedly handsome, salt-of-the-earth buddies to a touchdown but he has no qualms about leading his receiver into a giant puddle of mud on that deep route. Playing ball in your trusty jeans isn't nearly as much fun when they're soaked through in dirt and grime.
On the other side of the equation sits Wild Bill Hickok Jay Cutler. Wild Jay leads the NFL with 18 interceptions this year, including five against the 49ers (weird coincidence, right?). His accuracy has been such a concern for Bears fans that people actually speculated that he has vision problems.
So, all things considered, this game feels like it's a little bit of a passing of the gunslinger torch. Hopefully the moment will be commemorated appropriately but we doubt it. Here's how we'd celebrate the occasion:
-Cutler Ponchos: Maybe we can put a #6 on the front and a #314 on the back?
-Favre & Cutler Lithograph: A signed and dated lithograph with Cutler and Favre dressed in full wild-west attire including bullet-belts.
-T-Shirt Gun Standoff: At halftime, Favre and Cutler draw and fire t-shirts at one another to see who's got the fastest hand in the land. Don't worry, they will remain fully padded so this won't be an injury risk.
-The Three Amigos Redux: Favre, Cutler and Matthew Stafford (tied with Wild Jay for the league INT lead) play the parts of Chase, Martin and Short as they fire footballs at Tom "El Guapo" Brady.
- Cacti Field: Remove the turf in Minnesota and let these guys play on the rocky plains of the old-west filled with cacti and have the occasional horse crossing. Suddenly, playing through "the elements" takes on a bigger meaning.