UH-OH: In the 3 major North American sports leagues to utilize best-of-seven series, there have been 286 teams to hold a 3-0 series lead. Only 3 of them have blown that lead. The 2004 Yankees, the 1975 Penguins and the 1942 Red Wings. The 2010 Bruins hope to avoid this list when Game 7 in Boston is played on Friday night...good luck, this is definitely a list you don't want to be apart of.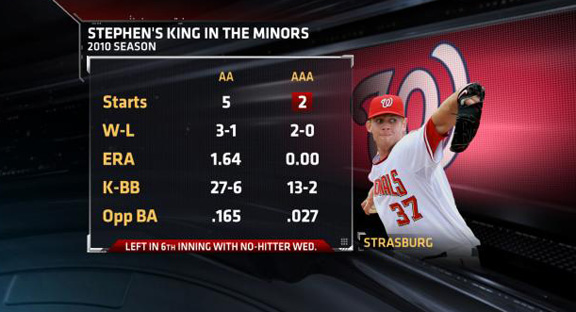 READY FOR WASHINGTON?: Stephen Strasburg has pitched in 7 games between AA and AAA and thus far he's lived up to the hype. He's won 5 of 7 starts and hasn't allowed a run since being called up to Triple-A Syracuse. He has 40 strikeouts and only 8 walks during his time in the minors. Is he ready to make the jump to Major League Baseball? Curt Schilling weighed in on how he thinks Stephen Strasburg will perform in the majors.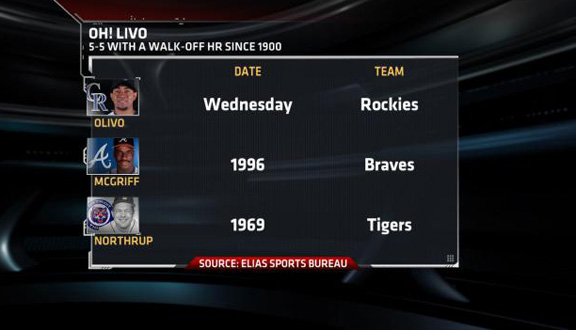 PERFECT NIGHT FOR A WALK-OFF: Miguel Olivo becomes the 3rd player in the modern era to go 5 for 5 AND hit a walk-off homer. All 3 accomplishments have come in the divisional era, as Fred McGriff did it for the Braves in 1986 and Jim Northrup did it for Detroit back in 1969. Northrup was actually 6-for-6 in his game.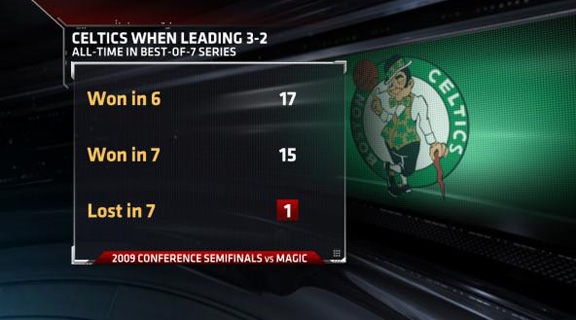 BATTLE ROY-ALE: The Celtics are 32-1 all-time when leading 3-2 in a best-of-7 series. They've closed it out in 6 games 17 times. And in 7 games 15 times. There lone series loss was last year in the conference semifinals versus the Magic. Game 6 is tonight on ESPN, coverage begins at 7:30PM ET.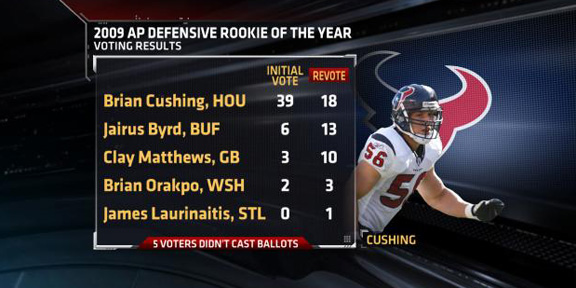 TWICE AS NICE: The re-vote was much closer than the initial vote. Texans LB Brian Cushing edged Bills safety Jairus Byrd by just 5 votes compared to 33 in the initial vote. Clay Matthews finished 8 votes back in 3rd place. James Laurinaitis of the Rams picked up a vote. He didn't have any votes before. Only 45 votes were cast this time as 3 voters were unavailable to cast ballots and 2 voters abstained.