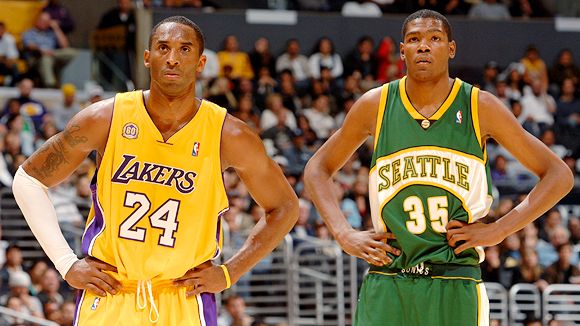 Noah Graham/Getty Images
It's pictures like these that drive Seattle fans further into "shoulda woulda coulda" despair.
Take heart Cleveland - it could be worse. Forbes, the organization that makes even the mightiest athlete feel financially inadequate with its Top 40 Richest CEOs lists, has ranked America's Most Miserable Sports Cities. These ratings aren't based solely on the number of losses a town has had to endure. Instead, Forbes' panel weighted their standings to fanbases who've been tantalized with playoff appearances without the hardware to show for it (sound familiar?) :
"To create our misery rankings, we compiled the number of postseason appearances by a city's teams and compared them to the number of titles won. Those cities that combine a lot of playoff losses and few championships score highest (final round losses, such as a Super Bowl or World Series, are given the most weight, followed by semifinal round losses, and so on). Records from the pre-merged American Basketball Association and American Football League count." However, it appears that WNBA championships don't qualify, which explains how the much-maligned Seattle ranks at the top (or bottom, depending on how you look at it) of Forbes' list.
All things considered, there's still a lot to like about the cities that made the cut. Let's take a look at the best of the worst:
1. Seattle - They may have lost the Zombie Sonics to Oklahoma City, a Super Bowl on a questionable call and a whole mess of baseball games since 2001, but at least you get to hear the play-by-play wizardry of Hall of Fame announcer Dave Niehaus nearly every night.
Non-sports claims to fame: Bumbershoot Music Festival, Jimi Hendrix, awesome summer weather
2. Atlanta - After the whole Michael Vick debacle, the Magic's recent sweep of the Hawks and rumors of the Thrashers' relocation you'd be excused for not caring about the local sports scene. However, Jason Heyward has been such a legit rookie sensation that he's managed to steal some shine from Stephen Strasburg up in Washington.
Non-sports claims to fame: we can start with whale sharks(!) in the world's largest aquarium, the entire Adult Swim line-up, creation of the first carbon-neutral zone in the U.S.
3. Phoenix - It's a little puzzling as to why Arizona's teams are ranked this high since the Diamondbacks have won a championship within a past decade, so we'll attribute this rank purely on the Cardinals' and Suns' recent playoff performances. But regardless of whether Los Suns can finally get past the Lakers, seeing Steve Nash take one for the team with seemingly every part of his head is something to behold.
Non-sports claims to fame: Iconic Wild West sites, annual Hoop Dance contest, prime sight lines for UFO hunting
4. Buffalo The Jim Kelly years. Shudder. Has any franchise traumatized a city as an also-ran like this franchise? On the upside, young Buffalo Sabres goalie Ryan Miller was nearly single-handedly responsible for making the Olympic hockey final a legendary one.
Non-sports claims to fame: Sponge candy, packzi pastries and Rick James. Without the latter, we'd be deprived of M.C. Hammer and one of comedy's greatest sketches.
5. San Diego - Now that the LaDainian Tomlinson era is officially over, it's anybody's guess whick way Norv Turner and the rest of the Chargers will trend. You want to watch something heroic game in and game out? How about the sight of Adrian Gonzalez trying to carry an entire baseball offense by himself?
Non-sports claims to fame: Sand and surf, weather so pleasant it's become a punchline, the Jabbawockeez dance crew
Editor's note: Cleveland ranks No. 6 on the list, but this list was compiled BEFORE last night's loss by the Cav's, before LeBron's disappearing act, and before all of Cleveland began sweating out the days til free agency.
You can see the rest of the list here.