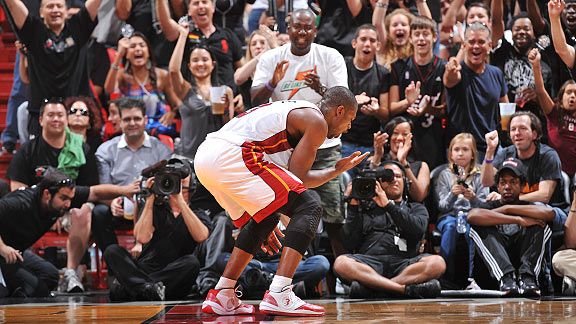 Jesse D. Garrabrant/NBAE/Getty Images
"I should NOT have written the URL on my hand before the game; sweat is nature's eraser."
The Miami Heat launched a website on Thursday, wewantwade.com, that gives fans tips on how they can keep superstar free agent Dwyane Wade in Miami. The advice includes things like sending dessert to Wade's table at dinner and starting a slow clap and/or standing ovation.
D-Wade, apparently, thinks the idea is "hilarious." We're fans of it as well. And with the biggest NBA free agent crop in recent memory looking to move it and shake it this offseason, we thought it's an idea worth duplicating. Now, guys like LeBron, Amare Stoudemire and Chris Bosh are obviously going to be feeling the love from their respective teams and fan bases. But what about some of the Association's lesser-known free agents. Shouldn't they get websites, too? We think you know our answer.
Kyle Korver, Utah Jazz
Website: www.UtahLikesYouEvenMoreThanAshton.com
Sample Advice From The Site:
People are always mistaking Korver for Ashton Kutcher. So, if you see Kyle on the street, stop and him and tell him he looks nothing like Ashton Kutcher (even though he does – look, that's Korver on the left and Ashton on the right). Tell him he is much handsomer than Ashton. And he's a better basketball player, too.
Korver's dad, Kevin, and his brothers, Kaleb, Klayton and Kirk, all (obviously) have K names. So, Carlos Boozer should change his name to Karlos Boozer to make Korver feel even more at home in Salt Lake City. That is, if Boozer himself decides to stay.
Brian Scalabrine, Boston Celtics
website: www.KeepServingVealScalabrineInBoston.com
Sample Advice From The Site:
If you seen Brian walking down the street in Beantown, tell him you really like his tan. He'll appreciate it, because he went to great lengths to get it. And if you're picturing great lengths to be promising radio station listeners to get a spray tan if he got 250,000 all-star votes, you would be right.
Just give the dude a high five. He'd surely appreciate it, seeing as how his teammates left him hanging the other night.
Darko Milicic, Minnesota Timberwolves
Website: www.KeepTheWolvesInTheDarko.com
Sample Advice From The Site:
Darko's recently expressed a desire to go back to Europe next season instead of returning to the Timberwolves. So to make him feel more at home, the people of Minnesota might try sending him a box of traditional Serbian desserts, like Kuglof. Or, better yet, bake it yourself and give it to him. He'll be able to taste the love.
Also, you should show highlights like these before every movie shown in theaters across the state of Minnesota. Oh, and make sure Darko goes to the movies to see them.
Kenyon Martin, Denver Nuggets
Website: www.HeyKMartPleaseDontShop.com
Sample Advice From The Site:
Offer to wash his car. A lot. Inside and out. As J.R. Smith learned the hard way this past April Fools Day, Kenyon is very picky about having a clean car.
Start calling Caramello candy bars K-Mart bars. In fact, change the label on them in all Denver grocery and convenience stores. At least, until 2011 when Carmelo becomes a free agent. Then it definitely has to change back.
Allen Iverson, Philadelphia
Website: www.He'sNotTheAnswerButHesWorthKeepingAroundInPhilly.com
Sample Advice From The Site:
Only one thing to do here: everyone in the city should pretend like it's 1996 – the year Philly drafted AI No. 1 – so Iverson feels welcome and wanted. And with all this speculation about rehiring Larry Brown, we're almost tempted to believe that this is exactly what the Sixers have in mind. To keep up the charade, Philadelphians should watch plenty of "Jerry Maguire" and "Independence Day" at the movie theater and prime time episodes of "3rd Rock from the Sun" and "Spin City" on TV. And nobody should use the internet because, what the heck is that anyway? We honestly don't see how this plan can fail.