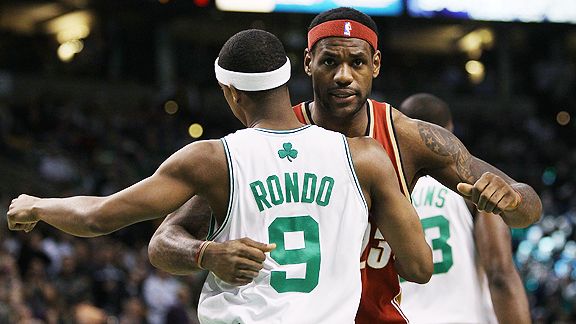 Elsa/Getty Images
Celtics Defeat Cavs, Win Series
Despite a triple-double by LeBron James, the Cleveland Cavaliers' season ended Thursday night thanks to the Boston Celtics. Kevin Garnett scored 22 points and added 12 rebounds, and Rajon Rondo finished with 21 points and 12 assists in the 94-85 Boston win. The Celtics will open the conference finals in Orlando on Sunday.
Cushing Denies Any Wrong Doing
Houston Texans LB Brian Cushing said Thursday he "did not inject or ingest" the substance hCG that resulted in his four-game suspension for violating the NFL's substance-abuse policy. Cushing was suspended for four games without pay last week for violating the league's drug policy but retained The Associated Press NFL Defensive Rookie of the Year award in a revote Wednesday.
The Kansas City Royals defeated the Cleveland Indians and later dismissed team manager Trey Hillman. Kansas City, 12-23, is in last place in the AL Central, trailing the Minnesota Twins by 10.5 games. Ned Yost will replace Hillman, who was 151-207 in more than two seasons as Royals manager.
Crosby Won't Play for Canada at Hockey Worlds
Penguins all-star Sidney Crosby won't be playing for Team Canada in the world hockey championships in Germany. Crosby was asked to replace injured Ryan Smyth hours after Pittsburgh's 5-2 loss to the Montreal Canadiens Wednesday night. Sid the Kid played in all but one of the Penguins' 95 games this season, including the playoffs.
Lidge Receives Encouraging News About Elbow
Brad Lidge's right elbow has no structural damage, the Phillies announced today. Lidge, who experienced stiffness in his elbow Monday, had an MRI today which showed only inflammation in the lining of his elbow joint. His status is day-to-day. Lidge, 33, is 0-0, 2.70 ERA with one save in four relief appearances so far this season.
If the Big Ten is going to expand by luring teams like Missouri and Nebraska, it won't be without a fight from the Big 12 commissioner, Dan Beebe stated. In an interview with ESPN Radio WHB in Kansas City, Missouri, Beebe said he will "have a very frank conversation" with his schools at the Big 12 meeting in two weeks.
Saints and Santini Go to Arbitration
A former New Orleans Saints security director has withdrawn his lawsuit against the club because the team's lawyers are sending the matter to arbitration. In the lawsuit filed on April 30, George Santini claimed the Saints attempted to cover up both the theft and abuse of prescription Vicodin pills at the team's facility. His lawyer says going to arbitration blocks either side from publicly discussing the case.
Nothing Better Than Being Independent
First-year Notre Dame head football coach Brian Kelly likes his school's independence and isn't afraid to say so. "I know you're hearing all these rumors about the Big Ten and all these other things, but let me tell you one thing, the history ... the tradition of Notre Dame football is steeped in that independence."
Parker Wants to Stay With Spurs
Tony Parker denied a claim in the New York Daily News that he would welcome a move from the Spurs to the Knicks. With a year left on his deal, Parker says he wants to stay with the team as long as possible. Spurs GM RC Buford said he had no plans to shop Parker this summer.
Brian Vickers Undergoing Medical Tests
Red Bull Racing Team officials announced Thursday that due to a recent diagnosis of a medical condition, Brian Vickers will not compete in this weekend's NASCAR racing activities at Dover International Speedway. Vickers, 26, driver of the No. 83 Red Bull Toyota, was hospitalized Wednesday evening and is still being evaluated.