Celtics 94, Cavaliers 85 (Celtics win Conference Semis, 4-2)
Celtics advance to the Conference Finals for the 2nd time in 3 years and have been the team to knock LeBron James out of the playoffs in 2 of the last 3 postseasons. Kevin Garnett scores 22 points, his first 20-point playoff game since the Game 6 clincher against the Lakers in the 2008 NBA Finals. Celtics improve to 33-1 all-time when leading a best-of-7 3-2 while Cavaliers fall to 0-5 when trailing 3-2. The Cavaliers are the 2nd team in NBA history to win 60 games in back-to-back seasons and fail to reach the NBA Finals in either season (Bucks in 71-72 and 72-73).
Game Recap | Box Score | Watch Replay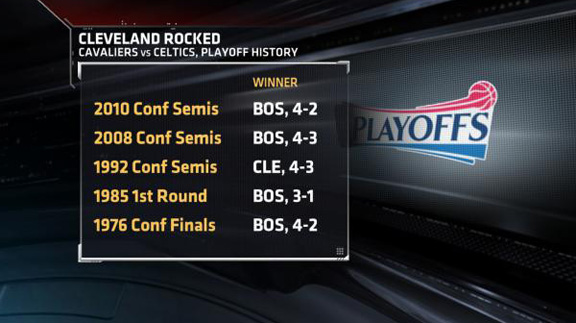 The Cavaliers and Celtics have met 5 times in the postseason, and Boston has now come away with the win in 4 of those. The last time the Cavs took a playoff series against Boston was back in 1992, when LeBron James was 7 years old.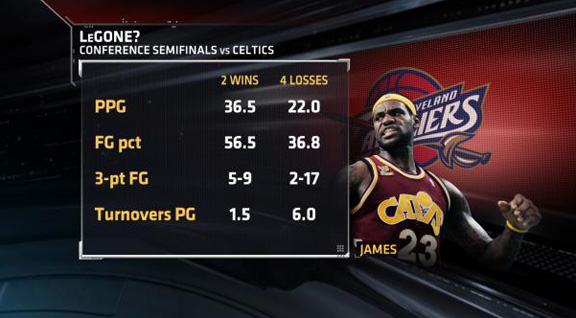 As LeBron James goes, so do the Cavaliers. In Cleveland's 2 wins this series, James averaged 36.5 points per game while shooting well over 50 percent from the floor. In the 4 losses, James turned the ball over an average of 6 times and averaged just 22 points per.