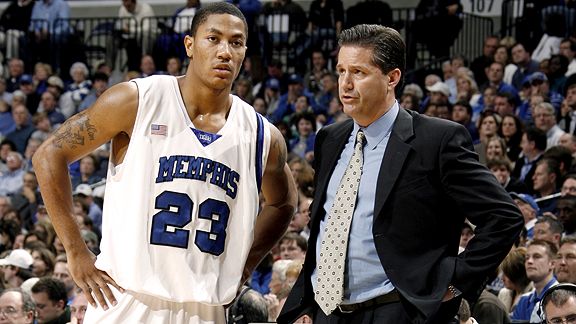 Derrick Rose, check. Coach Cal? LeBron? Checking on that...
SUPERSIZE ME
The Bulls are an NBA team with lots of cap room and without a head coach. And so are the Nets. And so are the Clippers. And now, the Chicago Tribune reports that LeBron James is being shopped to all three - but as part of a package deal that includes Kentucky coach John Calipari. Of course, any talks between teams and representative of the King would have to be unofficial, since teams cannot talk to free agents until July 1. Which means we can expect plenty of denial tweets over at least the next six weeks from @UKCoachCalipari.
Bulls must weigh if they want James...and Calipari | Follow Coach Cal on Twitter (for the very latest)
More from The Rundown, including the start of the Western Conference Finals - finally - and why golf won't get in the way of football for Tony Romo, after the jump.
CUT THE SUCKER
The first step in the operation is to shave the patient...
The Lakers haven't played in six days. The Suns? Seven. When we last saw Steve Nash, he could barely see us since his eye was so swollen. It's not-so-swollen now, but left his socket scarred and colorful. Meanwhile, Kobe Bryant's swollen knee is also not-so-swollen now, since he had a significant amount of fluid drained from it (according to the LA Times) and hasn't practiced all week. One of them will be a winner tonight (9:00 ET), and we will say his team was well-rested. The other one will be a loser, and we will say his team was rusty. But at least we will finally have said that they played. (Is Rusty still in the Navy?)
Suns Preview | Lakers Preview | "Broke my arm."
"Sure, it would be fun to play in, but my juices will already be flowing because it's the first practice of our off-season, and I'm really excited about that."
- Tony Romo had been in line to qualify for this week's Byron Nelson Championship. All he needed was a top-four finish in today's qualifying. What he didn't need was the Cowboys' first organized team activities practice conflicting with his morning tee time. Except that as the Cowboys quarterback, he probably needs the OTA time more than the tee time, right?