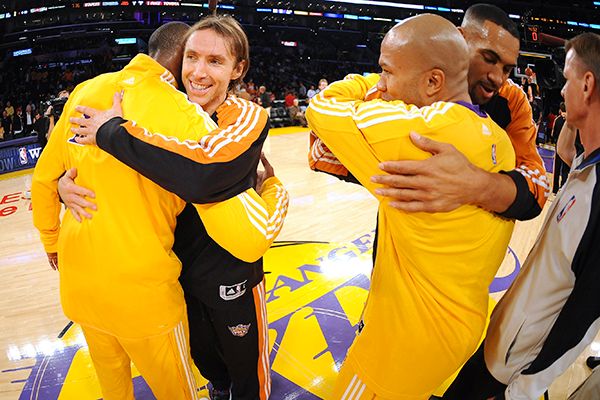 Noah Graham/NBAE/Getty Images
True or False: The Lakers and Suns hold the NBA record for most simultaneous man-hugs.
Game 1 of the Western Conference Finals between the Suns and Lakers gets underway tonight at 9 (ET). This is Phoenix's first trip to the Conference Finals since 2006, when they lost to the Mavs in six games. Amare Stoudemire was absent from that series recovering from micro-fracture surgery, but will be in the lineup this time around and undoubtedly motivated (by both the opportunity to play in the Finals and his upcoming free-agent contract). Unfortunately for the Suns, they haven't had much luck against the Lakers in the Conference Finals: L.A. faced them two previous times, defeating them in six games in 1984 and sweeping them in 1989.
However, there is some good news for Phoenix -- the last two teams to sweep the Spurs in a best-of-seven series went on to win the NBA Championship. Although, those two teams were the 1982 Lakers and the 2001 Lakers.
In preparation for Game 1, we've put together a 10 question quiz to quench your thirst for Lakers-Suns knowledge. And before you start, remember: cheaters never win. Besides there's really no prize here so you're only wasting your own time if you actually Google the answers. Begin now:
1. Tonight's matchup between L.A. and Phoenix marks the 12th time they have met in the postseason. Only two teams have met more times in the NBA playoffs ... who are they?
a) Bulls and Knicks
b) Bulls and Pistons
c) Celtics and 76ers
d) Celtics and Knicks
2. Kobe Bryant and Phil Jackson have won 106 postseason games together. Which player-coach combination holds the record with 110?
a) Tim Duncan and Gregg Popovich
b) Scottie Pippen and Phil Jackson
c) Michael Jordan and Phil Jackson
d) Magic Johnson and Pat Riley
e) Red Auerbach and John Havlicek
3. The Phoenix Suns have made the NBA Conference Finals eight times, but have only advanced twice, giving them a win percentage of .250. Which team has the worst win percentage in the Conference Finals (minimum five appearances)?
a) Indiana Pacers
b) Utah Jazz
c) Sacramento Kings
d) Seattle Supersonics
4. The Lakers have extended their record of Conference Finals appearances to 22. The Celtics have the second most appearances with 16, but which team is third? (Remember: Conference play began in 1970-71)
a) Chicago Bulls
b) Detroit Pistons
c) San Antonio Spurs
d) New York Knicks
5. Steve Nash is the only NBA MVP never to appear in the NBA Finals. He also holds the record for most postseason games without a Finals appearance with 112. Who has played the second most playoff games without a Finals appearance?
a) Terry Cummings
b) Mark Price
c) Mitch Richmond
d) Tim Hardaway
6. Kobe Bryant enters tonight's game scoring 30 points or more in five straight. Since 2000, the most consecutive playoff games with 30 points or more is seven. Which player recorded that streak?
a) Shaquille O'Neal
b) Allen Iverson
c) Vince Carter
d) Tracy McGrady
7. The last time the Suns made the NBA Finals was in 1993. Who was Phoenix's coach?
a) Danny Ainge
b) Paul Westphal
c) Cotton Fitzsimmons
d) Tom Chambers
8. Kobe Bryant holds the Lakers record for most postseason points with 4,650, but which player has scored the most playoff points for the Suns?
a) Charles Barkley
b) Walter Davis
c) Dan Majerle
d) Kevin Johnson
9. As a head coach, how many Conference Finals has Phil Jackson appeared in?
a) 11
b) 12
c) 13
d) 14
10. How many stitches did Steve Nash receive after colliding with Tim Duncan last round?
a) 3
b) 6
c) 9
d) 12
Answer Key:
1) Celtics & 76ers - 18 times
2) Scottie Pippen and Phil Jackson
3) Sacramento Kings: 1-7 (.125)
4) Detroit Pistons - 11
5) Terry Cummings - 110
6) Shaquille O'Neal
7) Paul Westphal
8) Kevin Johnson - 2,026
9) 14
10) 6