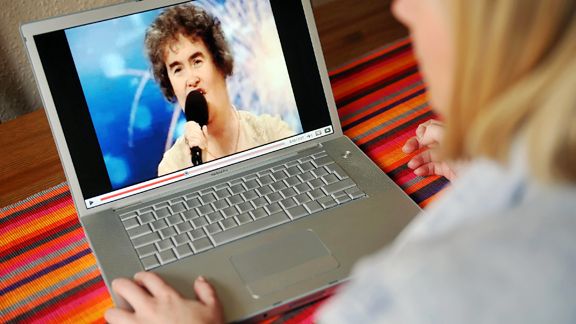 Leon Neal/AFP/Getty Images
Sorry, Susan. You are not on our list. Try some trick basketball shots and get back to us next year.
This year, YouTube is celebrating its fifth anniversary. And while, much like a Cuban pitcher, the internet sensation's actual birthday is somewhat dubious (the domain was registered Feb. 14, 2005, the first upload – "Me at the zoo" – was April 23, 2005, a public beta version went up in May of 2005 and the site officially launched in November), today is still a day worth celebrating. Because today, YouTube made a big announcement, announcing that it now has more than 2 billion views a day.
So this seems like as good of a time as any to discuss some of our favorite sports moment on The You (can we start calling it that?) over the past five years. Sorry Lady Gaga (and your 200 million views), Susan Boyle and Greyson Chance, you don't make the cut. With enough videos on the site that it would take 1,700 years to watch every single one of them (at least, that's what YouTube says) we had plenty to choose from. Let us know your faves, and the ones we missed.
Malibu Takes "The Most Excellent Hit" – April 2007 – 1.6 million views
American Gladiator Malibu describes taking a hit like no one has ever described taking a hit before.
Dunk Contest Meets Japanese Game Show – September 2006 – 2 million views
We don't know if it's the feat itself - a man jumping off a trampoline to complete the world's longest dunk - or the awesome repetition of the feat that makes this clip so awesome. Either way, it's a 10 out of 10. And if you don't agree, at least you have to admit it's better than this basketball-meets-trampoline clip.
Somebody Check Ben Wilson's Birth Certificate - November 2008 - 200,000+ views
It's like this: if you're a parent, you don't want your kid playing against Ben Wilson. You just don't.
And Boom Goes This Guy's Career - December 2005 - 4.4 million views
We dare you to watch this whole clip of the world's worst sportscaster without cringing. We DARE you.
Is It Real? Who Cares, It's Kobe! - April 2008 - 4.9 million views
Spoiler alert: it's fake. Still cool though. As for gymnast Shawn Johnson back-flipping over a bobsled? Yeah that one's probably fake, too.
What's Better Than An Awesome Press Conference? An Awesome Press Conference Turned Into A Hip-Hop Video - June 2009 - 2.4 million views
In this video, we're talking 'bout ... you guessed it ... practice. And playoffs. But mostly practice.
LT Awesome Video Good Job - January 2010 - 100,00+ views
What do you get when you combine Tim And Eric style production with LT doing the Electric Slide? LT's Electric Glide. If the views seem small, it's because the original was taken down. This is one of many re-posts.
Why Can't We Be Friends, Slam Dunk Edition - July 2006 - 7.8 million views
Kobe channels his inner Nate Robinson at practice. Are we sure that's Shaq he's jumping over? Not entirely. Are we sure it's an awesome video? Most definitely. Oh, and speaking of Shaq, may we interest you in his all-time greatest quotes? And speaking of dunking, may we interest you in some mini-dunkers?
Dude, That Shot Was Like, Perfect - April 2009 - 2.3 million views
If you've never seen Dude Perfect, the king of trick basketball shots, now is the time to catch up with the rest of the world (they were on Good Morning America for crying out loud!). And if you like trick shots, have we got a treat for you involving a pool table and some dominoes.
Our Money's On The Cougar - January 2008 - 400,000+ views
Admit it. At every sporting event you go to, you're secretly hoping a mascot fight breaks out. We're not judging.