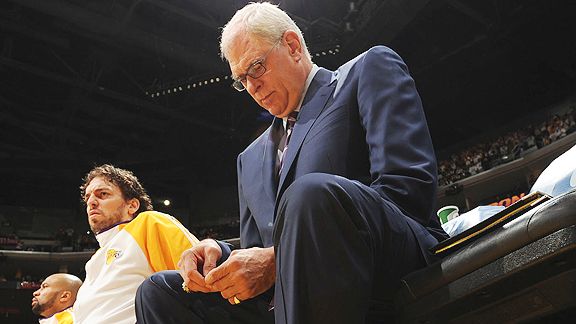 Andrew D. Bernstein/NBAE/Getty Images
Jackson's Future as Coach in Doubt
Usually Phil Jackson waits until the offseason to discuss his future plans, but not today. Jackson told Fox Sports Radio that he has been thinking about whether or not he would be capable of completing another season on the bench. While he loves the playoffs, it's the thought of another grueling 82 game season that has the future Hall of Fame coach considering retirement.
"As you guys know," Jackson said, "It's not about this last month of April, May, and part of June to coach. That's exciting, fun, challenging...But it's those other 82 games, the exhibition season, and being in five different cities in eight different nights or seven different nights. It kinda wears and tears and kinda creates a life that gets a little bit ragged and a little bit jagged."
Cowboys QB Tony Romo had a Monday morning tee-time which would have given him a chance to qualify for a PGA Tour event, but chose to workout with his teammates instead. The Cowboys opened up voluntary Organized Team Activities this week, and their Pro Bowl QB was in attendance. This week's OTAs will be the first time Romo has a chance to throw passes to the team's first-round pick: WR Dez Bryant.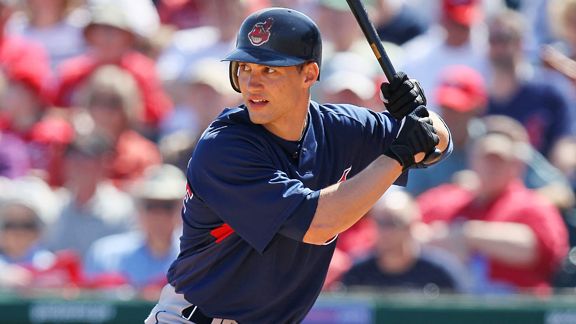 Chris McGrath/Getty Images
Sizemore Out with Bruised Knee
Indians center fielder Grady Sizemore will be out Monday against the Tampa Bay Rays with a bruised left knee. Sizemore is struggling at the plate this season, hitting just .211 with 0 HRs and 13 RBI. Trevor Crowe, just recalled from Triple-A Columbus this weekend, will start in his place and bat 9th.