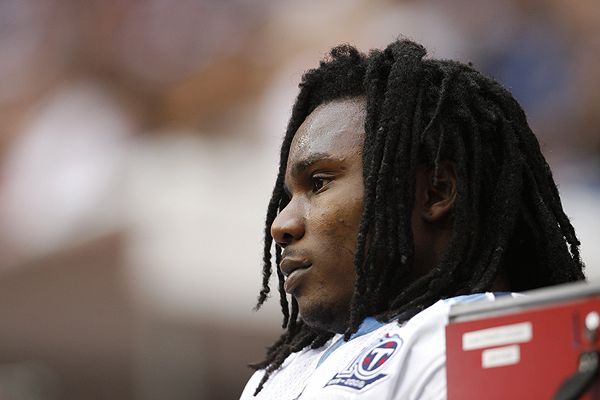 Aaron M. Sprecher/Icon SMI
A prize fight race versus Rajon Rondo may not be a bad idea after all for Chris Johnson.
Right now would be a good time to familiarize yourself with Javon Ringer -- he currently sits atop the Tennessee Titans running back depth chart. Chris Johnson, who set the NFL single-season record for yards from scrimmage with 2,509 last season, has skipped the Titans' voluntary practices this offseason in hopes of restructuring his current deal.
Marshall Faulk, who previously held the record (2,429 yards) is so impressed by Johnson's feat he's advised him to stay home and hold out. "Without a doubt, if more money is what he wants, he has to hold out ... You have to know who you are dealing with. The Titans aren't known for caving in or paying, it doesn't matter who you are. In my opinion, there is no way he can come in and play under the current contract.''
Johnson has three years left on the $12 million deal he signed in 2008 and is set to make $550,000 for the upcoming season. To put things in perspective, LenDale White, who backed up CJ last year and rushed for 222 yards, was signed to a one-year, $1.809 million contract by the Titans before he was sent packing for Seattle. Johnson eclipsed White's entire rushing output in just one week, rushing for 228 yards against the Jags in Week 8.
Of course, we have our own theories on why CJ has been a no-show at practice. Two weeks ago, Vince Young made it public that he plans on taking Tennessee's receiving core on a "most-expenses-paid trip" to Houston or San Diego to further connect with his teammates. Johnson, who led the Titans in receptions with 50, was not on the guest list. It's possible CJ is holding out until VY apologizes for the snub.
There's also a chance it's the Johnson thing to do. Andre Johnson, who led the NFL in receiving yards each of the past two seasons, is also holding out for a new contract. AJ missed his first practice Monday, so it's tough to tell whether Johnson & Johnson are in cahoots, but we'll know for sure if Calvin Johnson fails to report to camp as well.
And if you're into conspiracies theories, maybe Adrian Peterson is behind the whole thing. He could be telling CJ to stay home until the season starts, solidifying AP's No. 1 overall draft status for the upcoming fantasy football season. Hey, you never know.