In the history of the NBA playoffs, teams that have won the first game of a best-of-seven series have gone on to win the series 78.5 percent of the time. But Boston has been even better than that. The Celtics have won 49 of the 54 best-of-seven series they have played in which they have won Game One (90.7%). That is the highest percentage for any franchise that has won Game One of at least two best-of-seven series. Will it be more of the same tonight? The NBA Countdown Crew (Magic Johnson, Jon Barry, Michael Wilbon and Stuart Scott) preview Game 2 of the Celtics-Magic series.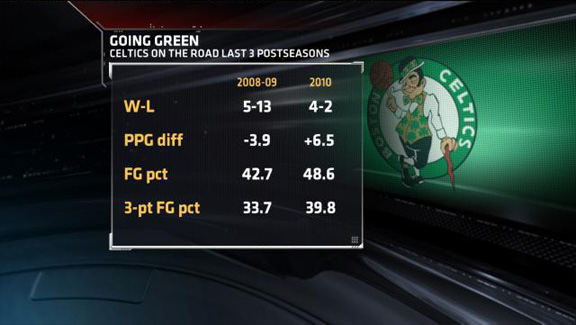 ROAD WARRIORS: The seasoned Veterans of Kevin Garnett, Paul Pierce and Ray Allen have found a way to solve their playoff road woes this season winning 4 of their 6 games away from TD Garden. The Celtics have won their last 3 road games and have shot well making nearly half their shots from the field.
Note: The Elias Sports Bureau contributed to this report.