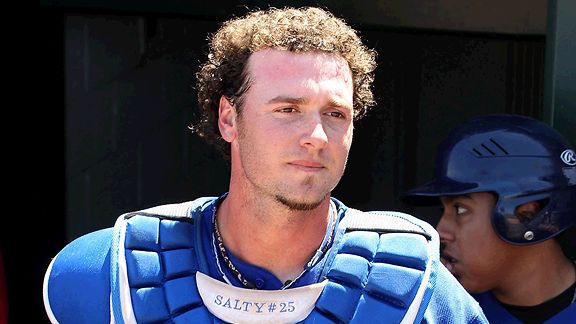 Christian Petersen/Getty Images
Wouldn't it be ironic if Saltalamacchia didn't like salty foods?
Good news. Jarrod Saltalamacchia can now throw the ball back to the pitcher again. Which is reason enough to celebrate, because last week, he couldn't. Salty, who was the starting catcher for the Rangers at the beginning of the season but is now playing for the Triple-A Redhawks after going on the disabled list two games into the season, came down with a serious case of Rube Baker syndrome. That's a "Major League II" reference, Netflix it now if you don't know what we're talking about (here's a teaser; Rube pops up 37 seconds in).
Last Tuesday, Salty was at his worst, when he threw 12 balls either in the outfield or in front of the mound – five in the first inning alone. Salty stopped short of saying he had a case of the yips – which is a real medical thing by the way, the Mayo Clinic says so – but did agree something was off.
But now things are looking up. Monday, Salty had what Redhawks manager Bobby Jones called "the best game he's had going back to the pitcher since he's been here." And that's saying something. But one can never be too careful when it comes to matters of confidence behind the plate. Luckily, there are plenty of catchers Salty can turn to for advice should he start slipping again. Fictional baseball movie catchers, that is.
Catcher: Rube Baker, of "Major League II" fame
Credentials: Major League rookie who studied under the tutelage of veteran catcher Jake Taylor.
Fictional Advice: "No matter what's going on, it could always, ALWAYS be worse. As for throwing the ball back to the mound, no one knows more about that than I do. Just keep your mind on something else.
Catcher: Jake Taylor, of "Major League" fame
Credentials: Aging Major League catcher with bad knees. Has read Moby Dick and knows how to lay down a bunt in true Babe Ruth fashion.
Fictional Advice: "Never give up on anything. And definitely don't give up on your Major League dreams. And MOST definitely don't give up on winning back your ex-girlfriend who is about to marry some other jerk. Also, the Mexican League is not as much fun as you would think."
Catcher: Crash Davis, of "Bull Durham" fame
Credentials: Spent 21 days in The Bigs, owns the Minor League home run record, believes in the hanging curve ball and high fiber, among other things ... .
Fictional Advice: "When the going gets tough, never forget to let your pitcher know who the boss is (hint: it's you; you're the boss). Just don't let the batter show him up when you do."
Catcher: Hamilton "Ham" Porter, of "The Sandlot" fame
Credentials: Played countless innings of sandlot baseball, beat the Tigers in the first ever Sandlot Classic (we just named it that), helped pickle "The Beast," achieved professional cannonballer status at – and was also banned from – the public swimming pool.
Fictional Advice: "There's never any pickle you can't get out of with help of good friends, a tree house, and pair of PF Flyers. And when in doubt, never hesitate to resort to 'friendly conversation.' Also, always be home in time for lunch."
Catcher: Dottie Hinson, of "A League of Their Own" fame
Credentials: Can milk a cow, catch a fastball without a glove and slide in a skirt.
Fictional Advice: "If you're holding on to the ball in the World Series, and your kid sister is barreling at you representing the winning run, and you can either hold on to the ball for the win or let go so her team will win, and you know it means more to her, just … think about it, okay? Think about it before you do something crazy. Also, and this bears repeating, there's no crying in baseball. My manager taught me that one."