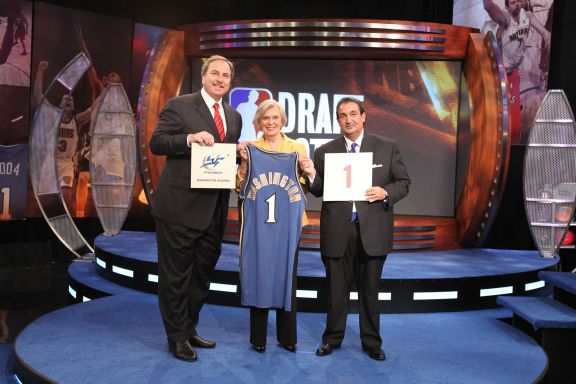 Nathaniel S. Butler/NBAE via Getty Images
The Washington Wizards won the NBA Draft Lottery Tuesday and will select 1st in June's Draft. They had a 10.3% chance of winning. The 76ers, Nets, Timberwolves, and Kings round out the top five. The top 3 picks were determined by lottery, the rest fall in reverse order based on records. The consensus top pick is Kentucky PG John Wall.
Celtics Beat Orlando 95-92 in Game 2
The Boston Celtics went into Orlando and picked up two huge wins. The Celtics used a big night from Paul Pierce - 28 points, 5 rebounds, and 5 assists - to take a 2-0 lead as the series moves to Boston. Rajon Rondo added 25 points and 8 assists. Dwight Howard did his best to even the series scoring 30 points, but it was not enough for the Magic.
For the second consecutive night, the Boston Red Sox found themselves down 5-0 against their bitter rivals. This time they came back to win the game, 7-6 at Yankee Stadium. Jeremy Hermida hit a two-run double in the 9th inning off All-Star closer Mariano Rivera to give Boston its first lead of the game. Closer Jonathan Papelbon made things interesting in the bottom of the 9th but managed to pick up his 10th save of the season, giving the Sox a split in the truncated 2-game series.
Marlins All-Star SS Hanley Ramirez was removed from Monday's game for a lack of effort and he was not happy about it. Ramirez told reporters he has no plans to apologize and that he is angry about being benched. He also called out his manager, Fredi Gonzalez, saying he lost respect for the skipper and that Gonzalez would never understand since "he never played in the big leagues."
Faulk Tells Chris Johnson to Hold Out
Reigning NFL Rushing leader Chris Johnson is skipping voluntary workouts with the Tennessee Titans amid a contract dispute. Among the many people to offer him advice on the situation is one of the best NFL RBs of all time, Marshall Faulk. Faulk says Johnson is doing the right thing and should hold out until he is paid what he deserves. Johnson was the 2009 AP Offensive Player of the year and ran for 2,006 yards last season.
The Philadelphia Flyers scored 3 goals and goalie Matt Leighton backed them up as they beat the Canadiens 3-0 on Tuesday. Leighton recorded his 2nd straight shutout after replacing the injured Brian Boucher in the Conference Semis against Boston. He is now 4-0 in his four playoff starts.
Romo-Williams Comparable to Montana-Rice?
Dallas Cowboys WR Roy Williams' opinion of his relationship with Tony Romo is making headlines in Big D. That will happen when you compare yourself to Jerry Rice. Williams said today, "You know, last year around this time we were throwing and catching and it wasn't very good. Just to be quite honest with you, we were missing balls, and bad throws and drops and all that in the off-season that carried over to the season. But this year, we're connecting like Montana and Rice."
Roethlisberger Still Sidelined
Ben Roethlisberger was not on the field Tuesday as the Steelers resumed off-season workouts. The NFL has not cleared the quarterback to return to the team just yet. Roethlisberger recently completed the league-mandated behavioral counseling as part of his conditional six-game suspension for next season. Dennis Dixon and Byron Leftwhich took the snaps in his place.
Big Ten Expansion Not Coming Anytime Soon
It could be a while before any decision on Big Ten expansion is made. Conference commissioner Jim Delaney said Tuesday they are sticking with the deadline laid out in December which is still 6-10 months away. He added that being represented in growing Southern markets and expanding the reach of the lucrative Big Ten television network would be the main goals for adding schools.
Former Cincinnati Bearcat, and St. Louis Rams 4th-round pick, Mardy Gilyard was robbed at gun point outside the UC campus Monday night. Gilyard and his bodyguard, Terry Hobbs, lost almost $300 in cash and $1000 worth of jewelry. Both men escaped the incident without injury. Gilyard told reporters, "I was just like, buddy don't shoot me. I can't go to camp with a bullet in my head."
Buccaneers tight end Kellen Winslow was not at voluntary OTAs as he recovers from offseason knee surgery. The surgery is believed to be Winslow's fifth operation on his right knee in the last six years. Sources close to the situation say the knee surgery was a minor arthroscopic procedure that likely cleaned out some excess scar tissue from previous surgeries.
Oh and our friend Herm Edwards joined Twitter today. This could get interesting.