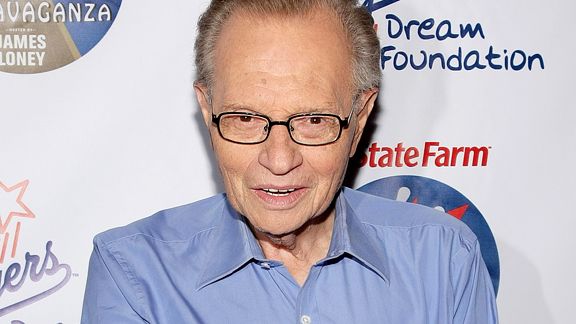 EL SEGUNDO, CALIFORNIA. GO AHEAD.
Amare Stoudemire on Lamar Odom: "I'm not giving him no hype right now. He had a lucky game in Game 1."
Derek Fisher on Amare Stoudemire on Lamar Odom: "[Larry King was] asking Mick Jagger about why he felt like the Rolling Stones have been so great for so long. Obviously, he talked about talent, working hard, blah, blah, blah. But he said there is some luck involved in being good. When you're great for a long time, you have to be lucky sometimes. So if he wants to call Lamar lucky last night, I'll take 19 and 19 as luck any day of the week."
Which begs the question: How old is Derek Fisher that he's watching Larry King interview Mick Jagger?
Game 2 is tonight (9:00 ET). No word on whether the Suns will run UFO's at Odom.
Suns/Lakers Preview | Larry King: Have UFO's Shut Down Our Government's Defense Systems?
More from The Rundown, including Frank the Tank in the Stanley Cup Playoffs, and why something's got to give in the Bronx, after the jump.
LET'S GO STREAKIN'!
You can't stop the Flyers. Or the Blackhawks. (You can't even contain them.) Both teams are up 2-0 in their conference finals. With a 4-2 win in San Jose, Chicago is now riding a 7-game road playoff win streak. That ties an NHL playoff record. It's been done by four teams before (most recently by the Avalanche in 1999), and of those four teams, three won the Stanley Cup. Meanwhile, after a 3-0 clean sheet against the Canadiens, the Flyers have now won six straight playoff games. They're the first team in NHL history to win six straight games following a three-game losing streak in the same postseason.
Hawks/Sharks Recap | Habs/Flyers Recap | Frank the Tank
SOMETHING'S GOTTA GIVE
For the third straight game - all at home - the Yankees relinquished an eighth-inning lead. (Oops.) And this one ended in a 7-6 loss to the Red Sox. (Face-palm.) Not exactly the way to welcome the best team in baseball to town tonight (7:05 ET, ESPN). Especially since the Rays are 15-4 on the road this season. Especially since the Rays are outscoring opponents 111-47 on the road this season. Except that the Rays have lost six straight games against the Yankees in the Bronx. And they'll be facing A.J. Burnett. He's 2-0 with a 0.86 ERA in three home starts this season. And he's 6-0 with a 1.76 ERA in his last 7 starts against the Rays (5-0 as a Yankee).