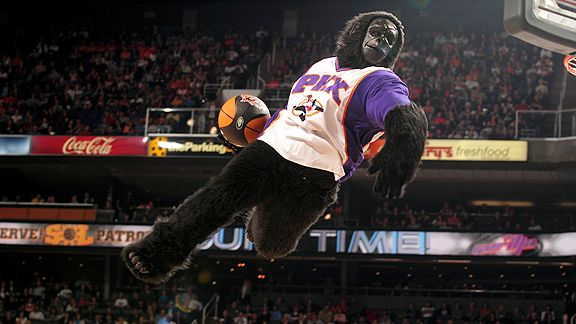 Barry Gossage/NBAE via Getty Images
Do we think the Suns Gorilla is in the market for a new head?
If anyone out there is in the market for a $5 million home – complete with a custom-built dungeon – you're in luck. That's right. The famous Hart family mansion, as in Bret Hart of WWE fame, is for sale. The Calgary mansion, where superstars like Chris Jericho, Chris Benoit and "Rowdy" Roddy Piper trained, was formerly owned by the Hart's and is now owned by a Calgary restaurateur.
But if you can't afford a former wrestler's mansion, don't fret. There are plenty of more reasonably priced items on the market right now. And they just happen to match up nicely with some of the weekend's biggest sporting events.
NHL Western Conference Finals Game 3: San Jose at Chicago
Friday at 8 (ET)
Down, 2-0, to the Blackhawks, San Jose needs some serious support from Shark Nation (is that even a thing? It is now … ) Anyways, nothing says support like a San Jose Sharks traffic light. The 16-inch tall, 6-inch wide light set flashes San Jose colors and – good news! – it has a rotating lens so it can hang on a wall or sit on a shelf. It's yours for the reasonable price of $34.99.
UEFA Champions League Final: Bayern Munich vs. Inter Milan
Saturday at 2:45 (ET)
Can Captain Mark van Bommel and Bayern's well-balanced midfield walk away with the championship? Or will Inter and its star midfielder, Wesley Sneijder, be soaking up the celebratory champagne? Either way, may we suggest that instead of swapping jerseys after the game they swap vintage wines? You can do the same with your very own bottle of Inter pinot, made to celebrate their 100th anniversary in 2008. There's only once catch, you can't taste the greatness if you live in America – shipping's not available in the United States.
Saturday at 7 (ET)
NASCAR's all-star race, a four-segment, 100-lap race that awards the winner with a $1 million purse, is fast. Know what else is fast? Air hockey. Luckily, such a thing as a NASCAR air-powered hockey table exists. That's right. NASCAR! And air hockey! All in one package! And don't let the fact that this table is sold at Target throw you off. You can get one even if you're not a Juan Pablo Montoya fan.
NBA Eastern Conference Finals Game 3: Orlando at Boston
Saturday at 8:30 (ET)
With the Celtics up, 2-0, headed back home to the Garden, there are going to be plenty of fans in Boston ready to sing some songs of celebration. Unless the Cs lose. In which case, maybe they'll want to sing the blues. Either way, they can do just that with their very own DOC RIVERS AUTOGRAHED MICROPHONE! Karaoke has never been so player friendly.
Table Tennis World Team Championships
Starts Sunday in Moscow
Did you know there is a table tennis world team championship? Did you know it starts this Sunday in Moscow? Well. If you are a fan of table tennis, and you own a dog, you won't believe what the Internet has in store for you. That's right, a table tennis doggie tee! The shirt reads: "winning isn't everything, there's also gloating and rubbing their noses in it." Which we don't really think fits the WTTC's "shake hands with friends" motto, but it does work on the level that dogs rub their noses on everything!
NBA Western Conference Finals Game 3: Los Angeles at Phoenix
Sunday at 8:30 (ET)
Phoenix may be down two games to none against the Lakers as the series heads back to Phoenix, but at least Suns fans can hold their heads high knowing that they have one – if not the league's best - mascot. And how better for fans to celebrate that fact than with a Suns Gorilla head of their own? After all, imitation is the highest form of flattery.