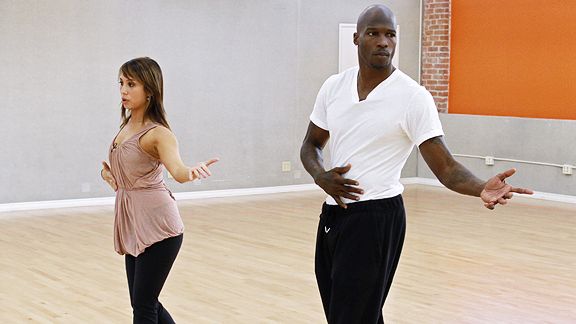 Chris Chavira/ABC
Dance! Dance like America is watching you! Because they are were will be again.
Chad Ochocinco may have gotten the boot from ABC's "Dancing With the Stars" Tuesday, but fear not. We've got all summer to spend with the outspoken wide receiver. His new megaphone of choice is VH1's "Ochocinco: The Ultimate Catch," a reality dating show where 85 (Oh Chad, we see what you did there) women swoon for Ocho's affection in tournament-style matchups.
With this bracket format, we can foresee some big head-to-head dating matchups, the likes of which haven't been seen since MTV's "Dismissed." And, as with all reality shows, some fierce challenges will surely separate the starting lineup from the rest of the depth chart.
Since Ochocinco doesn't drink (as he made very clear on his twitter page this week), we'll probably miss out on such reality dating staples as awkward bar/jacuzzi/nightclub behavior behavior (see: every reality dating show ever). So if the usual is out, what's in? We don't know, but we sure do have some suggestions.
Considering No. 85 played college football at Oregon State, is it too far out of the realm of reality TV - and surely nothing is on the network that brought us Flava Flav - to suggest the contestants undergo an Oregon Trail-like competition (Oh no! Jennifer and Capri have died of dysentery!)? The challenge could be to follow Ochocinco's path from the Midwest - he first attended college in Oklahoma before becoming a Beaver) - to the Pacific Northwest, all while having to do fun stuff like find footballs hidden in trees, construct playbooks out of bark and eat rabbit cooked over a spit.
But the dating game doesn't always have to be such a grim struggle. Let's face it, the man knows how to celebrate. So we're thinking some sort of contest where 85's 85 suitors have to devise their own celebratory touchdown moves is in order. Although it'll be hard to beat an Ochocinco river dance.
That's all physical stuff though. If the ladies are looking for some mental synergy, they would do well to work on their soccer knowledge. Ochocinco is a lover of the foreign man's football, and you can bet he'll be in full World Cup mode this summer. So a soccer quiz would fit right in to all of the challenges. Ladies, we suggest brushing up by trying to name all the soccer players in the latest Nike commercial. Extra bonus points if you can recognize which player is actually sitting out this summer.
Finally, if they can get past the competition (little tip, don't forget the number one rule) the final six or so females should escort Chad through an impromptu mini camp in mid-June. It remains to be seen whether the ladies should perform waltz and foxtrot drills or survive a full onslaught of passing drills against Chad's Bengals teammates (why not both?).
Either way, we can all expect constant updates, Ochocinco being the technology aficionado that he is. So we'd all do well to prepare ourselves for such scintillating twitter analysis as: Christian Louboutins: Yes/No?