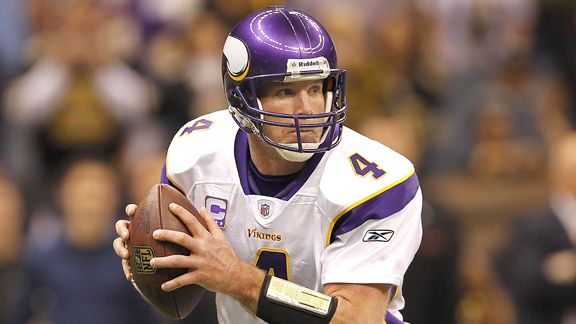 Aaron M. Sprecher/Getty Images
Brett Favre Undergoes Ankle Surgery
Brett Favre is one step closer returning to the Vikings next season. Favre said through his website (officialbrettfavre.com), "This is to confirm that I did have a procedure to remove some scar tissue and bone spurs from my ankle which had been bothering me for a period of time. I appreciate your concerns."
Blackhawks Win in OT, Take 3-0 Series Lead
With a 2-0 series lead, the Blackhawks did the job on home ice, defeating San Jose 3-2 in OT. Dustin Byfuglien netted the game winner as Chicago now looks to close out the series Sunday at 3:00 PM ET on NBC.
Astros pitcher Roy Oswalt wants to leave Houston. The Chicago Tribune first reporting, the three-time National League All-Star asked owner Drayton McLane Jr. to be traded earlier this week. Oswalt, 32, is in the fourth year of a five-year, $73 million contract that is to pay him $15 million in 2010 and $16 million in 2011.
Collins Returns to Philadelphia
Doug Collins is rejoining the Philadelphia 76ers, this time as its head coach. The 76ers, which selected Collins with the #1 overall pick in the 1973 draft, will be Collins' fourth stint as an NBA coach. He went 332-287 when coaching Chicago, Detroit and Washington. The 76ers have the second-overall pick in the upcoming NBA Draft.
Chris Bosh could see himself playing for any one of five NBA teams, two sources told ESPN.com's Chad Ford. Bosh listed Toronto, Chicago, Los Angeles, Miami and New York as the teams he would prefer to play for next season.
IOC, WADA Want Proof From Landis
Floyd Landis recently accused Lance Armstrong and other cyclists of using PEDs. And now, leaders of the IOC and the World Anti-Doping Agency (WADA) want Landis to prove his claims. "You can't condemn without proof," IOC president Jacques Rogge told the AP. "You can only sanction an athlete with tangible proof."
Federer, Serena Top Seeds at Roland Garros
The Williams sisters, Roger Federer and Rafael Nadal headline the French Open, which begins Sunday. While the Williams sisters could meet in the final as could defending champion Roger Federer could likely see Rafael Nadal, who is seeded second this year.
16-year-old Makes Cut at U.S. Open
Jordan Spieth may now officially be the most popular kid in his school. The 16-year-old Texas student became one of the youngest golfers to make a cut on the PGA Tour Friday. Spieth's 68 and 69 in the first and second rounds of the HP Byron Nelson Championship were good enough to make the cut. He is currently at 3-under par.
Roger Clemens' former trainer Brian McNamee has been subpoenaed to appear before the grand jury investigating Clemens Tuesday May 25, a source familiar with the government's investigation told ESPN's TJ Quinn. The grand jury is reviewing Clemens' 2008 testimony before a congressional committee when the seven-time Cy Young Award winner denied using steroids or HGH.
The Associated Press contributed to this report.