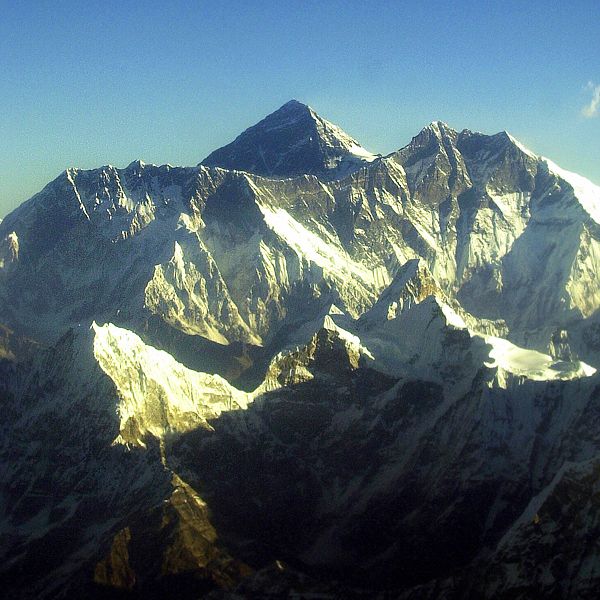 Sam Taylor/AFP/Getty Images
Don't worry Everest, just because a 13-year-old scaled your peak doesn't mean you've lost your mountain cred.
Kids these days. It seems only days ago that 17-year-old Jessica Watson became the youngest person to sail unassisted around the world (actually, it was on May 15). However, less than a week after her crowning achievement, 13-years-young Jordan Romero of Big Bear, CA stole that thunder after setting the record as the youngest person to scale Mt. Everest. It was his first challenge above 26,240 feet. Slacker.
Sure, he was accompanied by his dad, stepmom (both accomplished mountaineers), and three Sherpa guides, but still -- kid climbed Mount. Freakin' Everest. In an era of 13-year-olds who commit to Division I football programs and 14-year-olds winning (then forfeiting) Olympic gymnastics gold, this event is really something special. Hey, wait, where are you going Jessica, we're sorry ...
The previous record-holder was Temba Tsheri of Nepal, who reached Everest's peak at the now crusty old age of 16. We're not sure if he's an ethnic Sherpa, but if so -- take that, Sherpas! U-S-A! U-S -- (okay, we've been told that it's time to climb off of the pro-USA mountain).
Jordan's original and now completed goal was to climb the Seven Summits, the tallest peaks on all the continents. It's a dream he's had ever since he was inspired by a painting in his school hallway. The first mountain Jordan conquered was Kilimanjaro, and that was about three years ago when he was ten. If Ernest Hemingway were around, he'd probably challenge the kid to an arm-wrestling match. And lose.
"Every step I take is finally toward the biggest goal of my life, to stand on top of the world," Jordan posted on his blog, sending thousands of 30-somethings into early midlife crisis and stage parents into "what has my worthless kid done lately" mode. Our only worry is what adventure could possibly top Jordan's new bucket "before I get to 21" list. The deepest free dive? The longest stand-up set?
Regardless, don't be surprised if the Sherpas train their next 11-year-old prodigy to set a new Everest record.