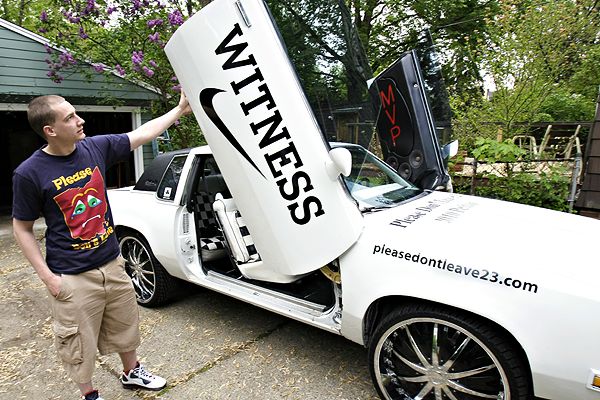 AP Photo/Tony Dejak
If you want LeBron to sign with your team, you got to up the ante.
At this point, there's nothing NBA teams can do to entice LeBron James. The free-agent signing period doesn't begin until July 8th and under the league's anti-tampering rules, no member of an NBA franchise is permitted to comment on a potential free-agent until July 1st. As Mark Cuban and Steve Kerr can testify, even the most innocent of comments can be seen as tampering and could result in fines of up to $5 million and the loss of future draft picks. Fortunately, there's no rules against fans wooing free-agents to come to their city and that's just what LeBron's disciples have done.
In an effort to keep LeBron in the Buckeye State, Cleveland's finest got together to sing a musical tribute to James titled "We are LeBron" to the tune of "We are the World" in hopes it will convince the Cavs star to stay put. Cleveland may not have Michael Jackson and Lionel Richie belting out lyrics, but John (Big Dawg) Thompson from the Cleveland Browns Dawg Pound and Ohio Governor Ted Strickland do a wonderful job holding down the chorus, "Please stay LeBron, we really need you. No bigger market's gonna love you half as much as we do." This three-minute rendition is an ambitious effort to keep LeBron in his home state. If only his teammates had the same mindset against the Celtics.
Hoping to coerce The King into coming to Hollywood, the Clippers faithful will be taking to the streets. They've organized a "Bring LeBron to the L.A. Clippers" parade scheduled for Thursday, May 27th, outside the Staples Center. The parade will run from 3-6 p.m. on the same day of Game 5 between the Suns and Lakers. If nothing else, it'll show LeBron how close he'll be living to a championship caliber team.
In Chicago, they're only letting two fans do their talking. The first being Chi-town native Donovan McNabb, who has made it public he'd like to see LeBron in a Bulls uniform next season. Before his taping of ESPN's "Homecoming with Rick Reilly" on Thursday night, McNabb said, "Being a major Bulls fan, [signing James] would mean a lot to me, as well as my team ... when you have a backcourt of Derrick Rose and LeBron, and a young nucleus of [Joakim] Noah and Luol Deng ... it would be big." McNabb knows a thing or two about ballin' as he played three years of college basketball at Syracuse.
The second fan -- President Barack Obama. "You know, like I said, I don't want to meddle," Obama told TNT. "I will say this: [Derrick] Rose, Joakim Noah it's a pretty good core. You know, you could see LeBron fitting in pretty well there." Although, before LeBron is persuaded by the Commander-In-Chief's request, he should find out if his signing with the Bulls entails any free meals from White House Executive Chef Cristeta Comerford.
New Jersey on the other hand has taken the "actions speak louder than words" approach. For the price of $99 (plus $8 S&H) you can own your very own LeBron James New Jersey Nets jersey. However, it should be noted that LeBron did put in for a number change and will likely be wearing No. 6 next season. If LeBron likes his fans confident, New Jersey has to be the front-runner.
As for Knicks fans, we're still waiting for their major push for the NBA's biggest free-agent. New York Magazine has already made their pitch to The King, but you have to think the Big Apple still has another trick or two up their sleeve.