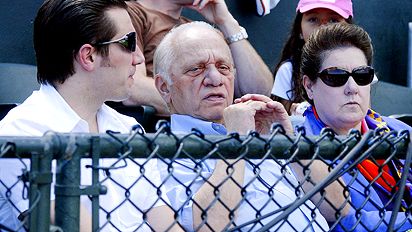 Peter Angelos, is a winner this year even if his Birds are losers.
The Orioles and Nationals are battling for the hearts and minds of baseball fans throughout the D.C./Baltimore/Northern Virginia area this weekend. "The Battle of the Beltway" is just one of the wacky Interleague Play caterpillars that the Major Leagues are hoping will grow into pretty Subway Series-esque butterflies. At least Nats/Orioles sounds more legit than Mariners/Padres.
However, this year's matchup is hardly between equals. The Nationals are one of the surprises this season, hovering around .500 in a tough NL East Division, and they're about to get a shot of Vitamin S2 (as in Stephen Strasburg). Meanwhile, the Birds have been ... for the birds, sitting with the worst record in the bigs.
One guy who's not complaining? Orioles owner Peter Angelos, who said Thursday that "it's a very good thing" that the Nats are doing so well, even if his team falls short. "I'm sure the Washington team will continue to improve, and I made the side comment that I'm hoping the Orioles will get their act together." The reason is simple: Nationals games are shown on the Mid-Atlantic Sports Network, which in turn is owned primarily by ... the Orioles. Cue evil music (duh duh duhhhhh!).
So having a local interleague rival is always good (for someone, at least). Here are a few metropolitan areas who could benefit from having another team:
Minneapolis-St. Paul
For fans who haven't taken a shine to Target Field and its uncovered bone-chilling ways, you could always build another dome. Might as well make it a true cross-town rivalry if you've got two towns. Plus, Minnie & Paul have been getting a bit too friendly lately.
Boston
It just hasn't been the same in Beantown without a curse to work against. Meanwhile, the Mets could use a Northeast rival that's as snakebit as they've been the past couple of years.
Toronto
We can't let one team have a monopoly on renditions of "O Canada." Plus, there's got to be another outlet for the Roy Halladays of the world than running down south.
Pittsburgh
The Steel City's so good at developing talent, they should have an American League squad on deck to ship hot prospects around the rest of the Majors.
Cleveland
Misery loves company, no?