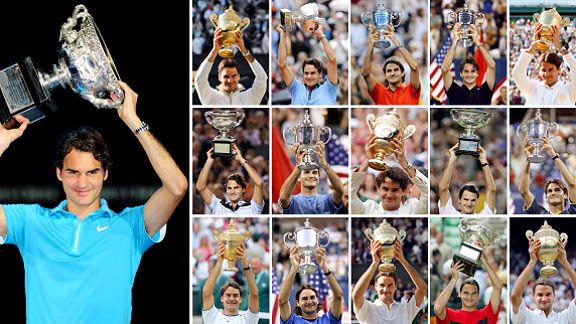 Getty Images
Roger Federer begins his quest for a 17th photo.
We know most of you spent your weekend baking "LOST" cookies in preparation for last night's finale, but just because you were bogged down in the kitchen doesn't mean the sports world stopped.
The Celtics won their sixth straight playoff game and took a commanding 3-0 lead over the Magic with a 94-71 win Saturday night. Boston has had a different leading scorer in 14 consecutive playoff games, one shy of the record set by the Sonics in 1978. Unfortunately for Orlando, teams up 3-0 in a best-of-seven series are 93-0 in the NBA playoffs. In other words, Mickey and Minnie will be hanging with Superman soon enough. As for the Suns, they still have a bit of life after defeating the Lakers, 118-109 Sunday night, making the series 2-1 Los Angeles. But how much of a pulse does Phoenix have when you consider the fact that Phil Jackson is 35-0 when up 2-0 in a best-of-seven series?
The Conference Finals haven't been much different on the ice. The Flyers took a 3-1 series lead over the Canadiens after a 3-0 shutout Saturday afternoon. It was Philadelphia goaltender Michael Leighton's third shutout in his past four games, making him just the fourth goalie in NHL history to record three shutouts in the Conference Finals. Game 4 is scheduled for Monday at 7 (ET). The Sharks, meanwhile, have no more games scheduled as the Blackhawks defeated them, 4-2 Sunday to advance to the Stanley Cup Finals. This is Chicago's first Cup appearance since 1992 and the team has not won the Stanley Cup since 1961.
This weekend also gave us our first taste of MLB interleague action. The only two teams who did not embark on the AL-NL rivalry were the Braves and Pirates, as the NL has 16 teams to the AL's 14. Of the 42 games played between Friday and Sunday, the National League won 22 of them. The top pitching performance belonged to Daisuke Matsuzaka, who pitched 7 and two-thirds innings before giving up a hit versus the Phils on Saturday en route to a 5-0 Red Sox win. But the most memorable performance goes to Nyjer Morgan, for giving Baltimore's Adam Jones a free inside-the-park home run as Morgan angrily slammed his glove into the ground instead of fielding the ball.
And for all you tennis fans, Les Internationaux de France de Roland Garros, or as we call it, the French Open, commenced Sunday. Roger Federer begins his quest to win his 17th Grand Slam title and his second consecutive French Open. Federer's biggest threat has to be Rafael Nadal (every ESPN expert picked him to win) who won the previous four French Opens before being ousted in the fourth round last year. Serena and Venus Williams are the top two seeds in the women's bracket, although they've only made the finals one time apiece as Serena defeated Venus in 2002 for her second of 12 Grand Slam singles titles. Venus won her first match yesterday in straight sets over Patty Schnyder while Serena takes on Stefanie Vogele Monday.