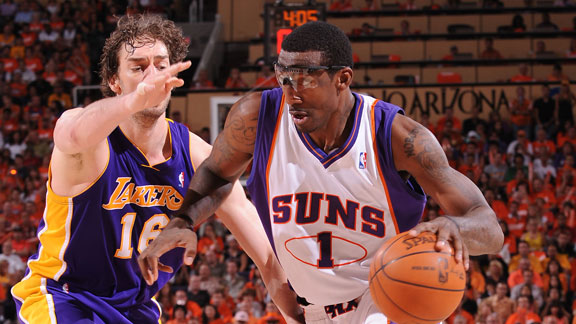 Amar'e, Suns Top the Lakers in Game 3
Amar'e Stoudemire let his play do the talking as the Suns defeated the Lakers 118-109 Sunday night. Stoudemire poured in 42 points, tying a career playoff high and added 11 rebounds to get Phoenix back into the series, down 2-1. Game 4 is in Phoenix Tuesday night, 9:00 ET on TNT and ESPN Radio.
Lima Dead After Apparent Heart Attack
Former MLB Pitcher Jose Lima died Sunday morning in his Los Angeles home. Enrique Rojas of ESPNDeportes.com reports that the cause of death has been ruled a heart attack. Lima was 89-126 in his 13-year MLB career. According to the Los Angeles Dodgers, Lima had recently agreed to rejoin the organization to work in community relations. He was 37 years old.
The Blackhawks are headed to the Stanley Cup Finals for the first time since 1992. Trailing 2-0 in the 2nd period Sunday, Chicago scored four unanswered goals, including Dustin Byfuglien's game-winner to complete the sweep. The Hawks haven't hoisted Lord Stanley's Cup since Bobby Hull and Stan Mikita led the way in 1961.
Jim Brown Thinks LeBron Will Leave Cleveland
Cleveland icon, and NFL Hall of Famer, Jim Brown thinks LeBron James is leaving Cleveland. Brown tells WVIE Radio-Baltimore that the local criticism LeBron is receiving may ultimately jettison the superstar from the Cavs.
NASCAR Announces Hall of Fame Class
NASCAR's new Hall of Fame has its first official class, announced Sunday. Inaugural members Bill France, his son, Bill France Jr., Richard Petty, Junior Johnson and Dale Earnhardt represent the 2010 class.
NFL Commissioner Roger Goodell is concerned for the health of more than just pro football players. Goodell sent a letter to 44 governors asking them to pass a law to protect young athletes from concussions. Goodell's letter will be discussed at Rep. John Conyers' forum on concussions in New York City Monday.
Danica Patrick blamed her poor IndyCar qualifying performance on the team's setup of her car Saturday. Sunday, she explained herself. "I was a little emotional yesterday and I know we had some issues," Patrick said in a television interview during Bump Day qualifying. "I was still shaking when I did the interview because we were on a very, very ragged edge out there." Patrick qualified 23rd with an average speed of 224.217 mph.
President Barack Obama thinks LeBron James can win in Chicago. The Commander in Chief told TNT that the Chicago Bulls have a "pretty good core" and "you could see LeBron fitting in pretty well there." President Obama says James should stay in Cleveland if he believes in the Cavaliers' structure, otherwise he should look elsewhere...especially Chicago.
US Soccer captain Carlos Bocanegra underwent hernia surgery before reporting to 2010 FIFA World Cup training. Bocanegra, who plays professionally for Rennes, hasn't played since May 2nd because of symptoms resulting from the hernia. Bocanegra is expected to be 100% before the start of the World Cup on June 12th.