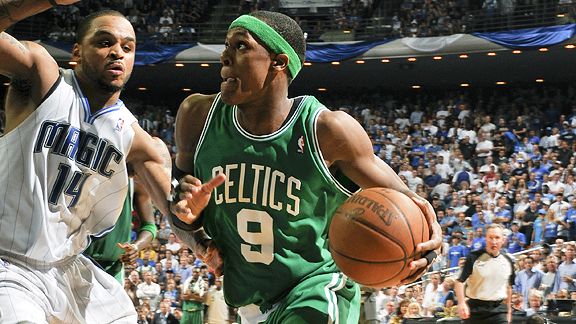 Fernando Medina/NBAE/Getty Images
Orlando Magic at Boston Celtics
8:30 PM ET ESPN -- TD Garden, Boston, MA (Boston leads 3-0)
The brooms will be out in Boston tonight as the Celtics will look to sweep the Magic and advance to the NBA Finals for the 21st time in franchise history. Teams up 3-0 in best-of-7 series are 93-0 all-time in the history of the NBA Playoffs. The Celtics have won six straight playoff games, tied for their 2nd-longest single-postseason streak. Orlando swept Charlotte and Atlanta before running into Boston in the Eastern Conference Finals. Only one team has ever swept two or more series and then in turn was swept in a series in that same postseason. The Lakers in 1989, swept Portland (3-0), Seattle (4-0) and Phoenix (4-0), before losing all four games to Detroit in the NBA Finals. Boston hasn't had the same player lead the team in scoring in two straight games during this year's playoffs. Only one other team in NBA history went 14 consecutive playoff games within one season without having the same player lead the team in scoring in consecutive games:
Most Consecutive Games With Different Leading Scorer (single postseason)
SuperSonics------15 (1978)
Celtics-------------14 (2010)
Pistons-------------13 (1989)
Game Preview ORL vs. BOS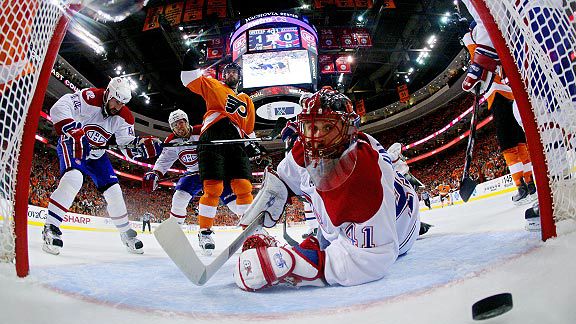 Jim McIsaac/Getty Images
Montreal Canadiens at Philadelphia Flyers
7:00 PM ET -- Wachovia Center, Philadelphia, Pennsylvania (Flyers lead series 3-1)
The Flyers are looking to join the Chicago Blackhawks in the Stanley Cup finals tonight. A win would advance them to the championship game for the first time since 1997. They have been to the finals five times since their last win in 1975, but lost every time. That's the same number of Stanley Cup appearances the Blackhawks have had since their last win in 1961. The Canadiens will not go away quietly though. Montreal is 5-0 this year in elimination games, three short of the 1975 Islanders record. They also rallied from a 3-1 series deficit against the Capitals in the 1st round of the playoffs.
Most Stanley Cup Final Losses - Since Last Stanley Cup Win (Current Streaks)
Blackhawks ------5
Flyers------------5
Bruins------------5
Blues-------------3
Game Preview: MTL vs PHI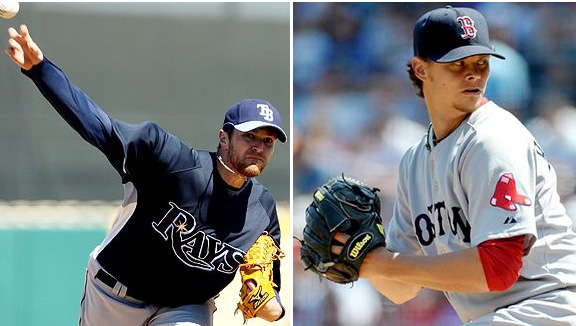 Doug Benc/Getty Images and John Rieger/US Presswire
Boston Red Sox at Tampa Bay Rays
7:10 PM ET ESPN2 -- Tropicana Field, St. Petersburg, Florida
Starting Pitchers
Boston: Clay Buchholz (5-3, 3.26 ERA)
Tampa Bay: Wade Davis (4-3, 3.35 ERA)
The two hottest teams in the American League East will square off in St. Petersburg. The Rays have won 10 of 12 overall while the Red Sox have won two straight and five of their last six following a 3-game losing streak. The Rays dominated the Red Sox when these two teams squared off earlier in the season, winning all four games. Since then, the Red Sox have rebounded, but the Rays haven't slowed down, earning the best record in baseball. Carl Crawford has 31 consecutive steals against the Red Sox, a streak that dates back to the start of the 2006 season. It's the longest streak of successful steals against one team by any big leaguer since Craig Biggio had 32 straight steals against the Expos from 1995 to 2002. If the Red Sox hope to take out the top team in the division they might want to start with Evan Longoria who always hurts them:
Evan Longoria, Career vs Red Sox
BA--------.309
OBP-------.396
Slug pct---.632
HR---------10<<
RBI--------26<<
>>Best marks against any team
Game Preview: BOS vs TB