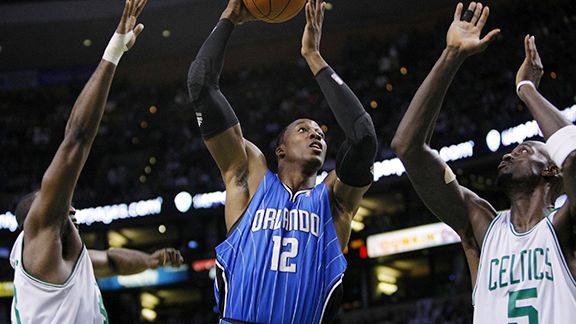 AP Photo/Winslow Townson
Magic Finally Beat Celtics in OT
They aren't dead yet. The Orlando Magic finally figured out the stingy Boston defense to win their first game of the series 96-92. Dwight Howard put the team on his back, finishing with 32 points, 16 rebounds, and 4 blocks. Jameer Nelson chipped in with 23 points and 9 assists.
Flyers Beat Canadiens 4-2, Move on to Stanley Cup Finals
From a shootout to the Stanley Cup Finals. The Flyers needed a shootout win on the last day of the regular season just to qualify for the playoffs. Fast forward 6 weeks, they will now face the Blackhaws for Lord Stanley's Cup. Jeff Carter scored twice and Michael Leighton continued to stifle the Canadiens as Philly won 4-2. This is the first trip to the finals for the Flyers since 1997 (They were swept by the Red Wings).
Mike Brown was fired Monday as head coach of the Cleveland Cavaliers. Brown exits with a career record of 272-138, the highest winning percentage in Cavs history. Despite his success during the regular season, his team's could never make it over the hump to win an NBA Championship.
After the jump: Bulls Contact Phil Jackson, Pacquiao Hospitalized, Nash's Nose Broken, Andre Johnson Signs Agent, Maine's Shoulder and Michigan's Response to the NCAA
Bulls Reach Out to Phil Jackson
The Chicago Bulls have used back channels to reach out to Phil Jackson about their vacant head coaching position. ESPN NBA Insider Chris Broussard reports that the Bulls are trying to gage Jackson's interest in a possible return to the team he won six titles with. There has been no direct contact between the sides, but, according to sources, Jackson would be open to discussing a return to Chicago.
Manny Pacquiao is a fighting man. In the ring, in the political arena, and now in a hospital. His latest opponent is a mild stomach ulcer that was discovered yesterday during a routine checkup. His mother says Manny is doing well and could be discharged today or tomorrow.
Supreme Court Rules Against the NFL In Antitrust Case
Monday, The Supreme Court denied the NFL's request for broad antitrust law protection. The high court unanimously reversed a lower-court ruling throwing out an antitrust suit brought against the league by one of its former hat makers. The licensee was upset that it lost its contract for making official NFL hats for Reebok. MLB is the only professional sports league with broad antitrust protection.
Steve Nash Suffers Broken Nose
Suns guard Steve Nash saw an ear, nose and throat specialist Monday after accidentally being hit in the face by Derek Fisher Sunday night. Dr. Ryan Rehl diagnosed Nash with a slightly broken nose but was able to reset it back into place. The all-star point guard will not miss any practice or game time following the injury.
In an effort to speed up the process of getting a new contract, Texans Pro Bowl WR Andre Johnson hired Kennard McGuire as his agent. He was previously relying on his uncle, Andre Melton, to handle his contract negotiations. Melton will remain on as a trusted adviser. McGuire also represents Dolphins WR Brandon Marshall and free agent WR Javon Walker.
John Maine has Shoulder Tendonitis
New York Mets pitcher John Maine was diagnosed with tendonitis in his rotator cuff and there is no word on his return. Maine left his last start against Washington last Thursday after just five pitches. He was placed on the 15-day DL Friday. He will start a rehab program and begin throwing once his shoulder feels strong.
The University of Michigan responded Monday to the NCAA's notice of allegations of improprieties in its athletic department. AD Dave Brannon said the response to the five potential major violations will be made public on Tuesday, and that it will include self-imposed sanctions. Michigan will have a hearing before the NCAA Committee on Infractions on August 13th and 14th.