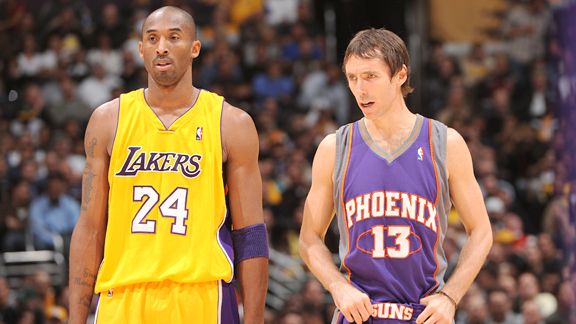 Andrew D. Bernstein/Getty Images
Los Angeles Lakers at Phoenix Suns
9:00 PM ET -- US Airways Center, Phoenix, AZ
After finally cracking the amour of the defending champion Lakers, the Suns look to even the series tonight in Game 4. Phoenix has beaten the Lakers at home in six straight playoff games dating back to 2006. If you like good defense, this series isn't for you. The Lakers and Suns have combined for 698 points through the first three games of the Western Conference Finals. That is the most points scored through the first three games of a Final Four series (Conference Finals or NBA Finals) since the Lakers and Celtics scored 714 points in the first three games of the 1987 NBA Finals. Steve Nash has been especially generous through three games of the series. He's dished out 43 assists so far, the highest total through three games of a Final Four series since Magic Johnson had 52 in 1991 against Portland.
Game Preview: LAL vs. PHX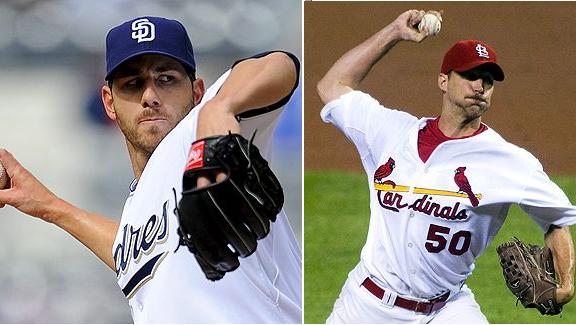 Andy Hayt/Getty Images and Jeff Curry/US Presswire
St. Louis Cardinals (26-19, 11-11 away) at San Diego Padres (26-18, 12-9 home)
10:05 PM ET -- Petco Park, San Diego, California
Starting Pitchers
St. Louis: Adam Wainwright (6-2, 2.49 ERA)
San Diego: Jon Garland (5-2, 2.38 ERA)
A pair of 1st place teams will send their best pitchers to the mound in San Diego tonight. Adam Wainwright has been instrumental to the Cardinals success with the league's ninth-best ERA. The right-hander allowed two runs and six hits with eight strikeouts in seven innings of Thursday's 4-2 win over Florida, the third time in four starts he yielded two runs or fewer. Jon Garland, who signed with the Padres in January, is enjoying pitching at his new home. He is 2-0 with a 1.08 ERA in four starts at Petco Park. He hopes pitching in San Diego will give him better luck against the Cardinals, as he recorded an 8.38 ERA in losing two starts against them last season with Arizona. Albert Pujols is hitless in his last 11 at-bats and he does not have an RBI in his last nine games. That ties the second-longest single-season RBI-less streak of Pujols' career. He had no RBIs in 11 consecutive games in 2001 (his rookie season) and had a nine-game drought in 2007.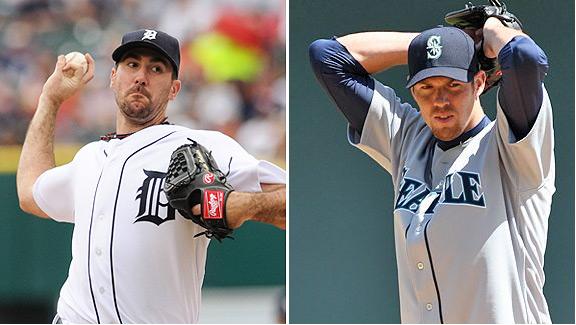 MLB Photos and Getty Images
Detroit Tigers (25-19, 11-13 away) at Seattle Mariners (16-28, 10-13 home)
10:10 PM ET -- Safeco Field, Seattle, Washington
Starting Pitchers
Detroit: Justin Verlander (5-2, 3.43 ERA)
Seattle: Doug Fister (3-2, 1.96 ERA)
Two of the best pitchers in the AL will square off in Seattle tonight. Justin Verlander is 4-0 with a 1.50 ERA in his last 4 starts. Verlander is also 9-0 in the month of May over the last 2 seasons. The right-hander gave up one or no earned runs in four of his last five outings. He threw a four-hitter against the Athletics on Wednesday, striking out five in a 5-1 victory. Doug Fister is one of several pitchers who has suffered from the lack of hitting. Fister has given up more than two runs in only two of his eight starts, but has one win in his last five outings due to a 3.25 run-support average in that span. His 1.96 ERA is tops in the AL.
Most Consecutive Starts Allowed 3 or Fewer Runs To Start Season, Mariners History
Erik Bedard-------15 (2009)
Doug Fister-------8 (2010)
Chris Bosio-------8 (1995)
Erik Hanson------8 (1993)
Game Preview: DET vs. SEA