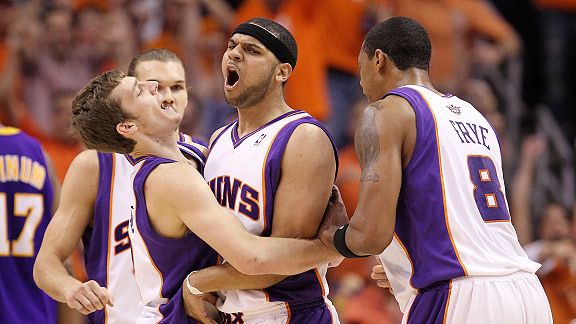 Ronald Martinez/Getty Images
The Suns bench carried Phoenix to a big Game 4 win over the Lakers. An 18-3 run in the 4th quarter, with Steve Nash and Amar'e Stoudemire on the bench, gave the Suns a lead they would not give up. Leandro Barbosa, Channing Frye and Jared Dudley all were in double-figures off the bench. The series swings back to LA on Thursday for Game 5.
First Cold-Weather Super Bowl Given to NY/NJ
Get your parkas ready. The NFL needed four votes but eventually gave Super Bowl XLVIII to the NY/NJ area. In 2014, the Big Apple will host the first outdoor Super Bowl ever held in a cold-weather city. The New Meadowlands Stadium, where the game will be played, is set to make its NFL debut this fall when the Giants and Jets play their first preseason game against each other August 16th.
After the jump: Tiger's return, Nets Contact Phil, Michigan Imposes Sanctions, Cowboys Talk Crayton Deal, Dwight Howard's HOF Conversation, Yzerman Heading to Tampa, and Utley leads NL all star votes.
Tiger Woods will return to the PGA Tour next week at The Memorial Tournament in Ohio. He's the defending champion and a four-time winner of Jack Nicklaus' event. Woods will be coming back from a neck injury that forced him out of THE PLAYERS Championship earlier this month.
Nets Show Interest in Phil Jackson
Sources tell ESPN.com's Marc Stein Tuesday that the New Jersey Nets have made back-channel inquiries into Jackson's interest in their open coaching spot. This comes one day after the Bulls reportedly made similar inquiries to gage Jackson's availability.
Michigan Releases Self-Imposed Sanctions
The Michigan football program released its self-imposed sanctions for violating NCAA rules during the first two years of head coach Rich Rodriguez's tenure. The sanctions include cutting practice and training time by 130 hours over the next two years, banning some staff members from attending practices, games, or coaching meetings next season, and the recommendation of two years probation. The NCAA will hold a hearing on the allegations in August and final sanctions may not come until well into the 2010 football season.
Cowboys Talked to Dolphins About Crayton
Dallas has reached out to Miami in order to see if the Dolphins were interested in trading for disgruntled receiver Patrick Crayton. No deal was made but the Cowboys are still shopping Crayton who has dropped to fourth on the depth chart. He has skipped all of the Cowboys OTAs this spring.
Howard's Inspirational Pick-me Up
Orlando Magic center Dwight Howard got an emotional pick-me-up before Monday night's Eastern Conference game against the Celtics. Former Houston Rockets great, Hakeem Olajuwon, talked to Dwight to offer words of inspiration. "Me and him had a great talk," Howard said. "He just inspired me to keep playing." Howard finished with 32 points, 16 rebounds and 4 blocks.
Yzerman Will be Named GM in Tampa
Hall of Famer Steve Yzerman will be named general manager of the Tampa Bay Lightning Tuesday. Yzerman leaves the Detroit Red Wings, the only NHL team he's ever been with, and worked for. He played his entire Hall-of-Fame career with the Wings, and most recently served as vice president. Yzerman led the Canadian national team to the gold medal in February.
Utley Leading NL All-Star Votes
After the first tally, Phillies 2B Chase Utley is the top vote getter for the NL all-star team. The four-time all-star received 687,724 votes - just ahead of Albert Pujols' 647,666. Utley is one of five Phillies who lead their respective positions: Jimmy Rollins leads all shortstops, Placido Polanco is ahead at 3B, Shane Victorinio leads in centerfield, and Jayson Werth leads in right.