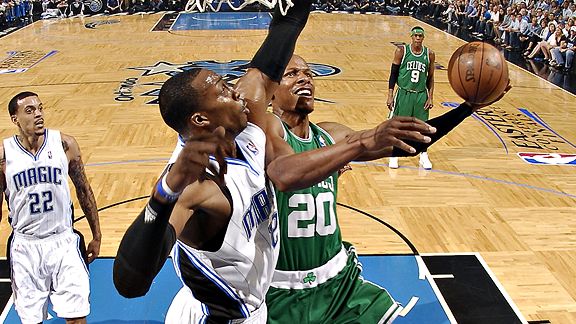 Fernando Medina/Getty Images
Boston Celtics at Orlando Magic
8:30pm ET on ESPN -- Amway Arena, Orlando, FL (Celtics lead Series 3-1)
Boston couldn't close out the series at home, so now they travel to Orlando for Game 5. In NBA history, teams with a 3-1 lead in best-of-seven series have gone on to win that series 95.8% of the time. Of course, the Magic were down 3-0 in this series, and teams facing a 3-0 deficit have gone 0-93 in best-of-7 series in NBA history. Over the last four postseasons the Magic are 3-3 when facing elimination. Interestingly enough, they are 3-0 when facing elimination against the Celtics and 0-3 vs everyone else. Paul Pierce needs just 11 points to become the 9th player in the Celtics storied history to reach 2,000 career postseason points. The previous eight are all in the Basketball Hall of Fame (Larry Bird, John Havlicek, Kevin McHale, Sam Jones, Robert Parish, Bill Russell, Tom Heinsohn, and Bob Cousy).
Game Preview: BOS vs ORL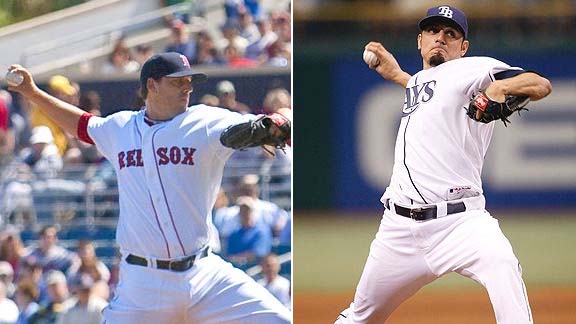 AP Photo/Nati Harnik and Getty Images
Boston Red Sox (26-21, 12-10 away) at Tampa Bay Rays (32-14, 13-9 home)
7:10pm ET -- Tropicana Field, St. Petersburg, Florida
Starting Pitchers
Boston: John Lackey (4-3, 5.07 ERA)
Tampa Bay: Matt Garza (5-2, 2.37 ERA)
The Rays will look to avoid a sweep at the hands of their AL East rivals tonight. This is quite a reversal from the four-game series the teams played in April. The Rays outscored Boston 24-9 while winning four in a row at Fenway Park from April 16-19. The Red Sox cruised to a 6-1 win Monday, then limited Tampa Bay to one hit in Tuesday's 2-0 victory. They've won seven of eight overall despite navigating a difficult stretch of their schedule against the Yankees and first-place teams Minnesota, Philadelphia and Tampa Bay. Boston has won their last four games behind superb pitching. Red Sox starters have a 0.32 ERA over their last four outings.
Red Sox Starters Last 4 Games (IP - ER)
Jon Lester-------------6-0
Clay Buchholz----------6-1
Tim Wakefield----------8-0
Daisuke Matsuzaka-----8-0
Game Preview: BOS vs. TB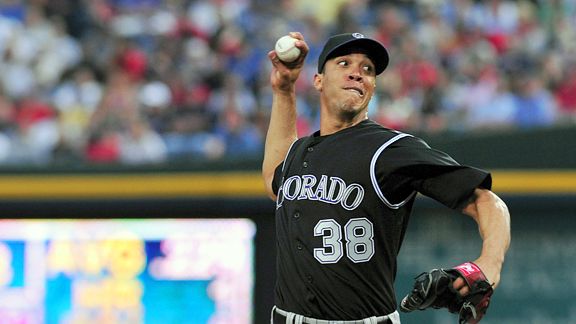 AP Photo/Gregory Smith
Arizona Diamondbacks (20-26, 9-14 away) at Colorado Rockies (23-22, 12-7 home)
8:40 PM ET, May 26, 2010 -- Coors Field, Denver, Colorado
Starting Pitchers
Arizona: Rodrigo Lopez (2-2, 4.42 ERA)
Colorado: Ubaldo Jimenez (8-1, 0.99 ERA)
The Colorado Rockies are looking for their fourth-straight win tonight and have Ubaldo Jimenez leading the way. Jimenez is going for his MLB-leading ninth victory of the season. The right-hander is just the fifth pitcher in MLB history to win eight of his first nine starts of the season with an ERA of 1.00 or lower (Fernando Valenzuela in 1981). Rodrigo Lopez is on the hill for Arizona and is facing the Rockies for the first time as a Diamondback. He allowed two runs in two innings of relief against Colorado while pitching for Philadelphia Aug. 4.
Game Preview: ARI vs COL
Note: The Elias Sports Bureau and ESPN Stats and Information group contributed to this report.