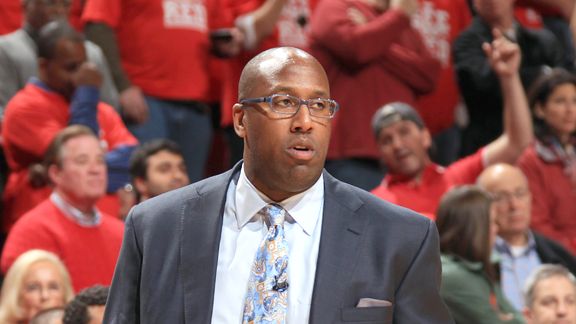 Joe Murphy/Getty Images
"Hello, you've reached Mike Brown's phone. I might not have a job anymore, but I do have really awesome taste in ties."
Last Monday, 24-year-old Rajesh Kumar's phone wouldn't stop ringing. Since then, he's received more than 150 phone calls, almost all of them expressing condolences to his firing. Only, none of the calls were for Kumar. As it turns out, Kumar's cell phone number happens to be ex-Cavs coach Mike Brown's old phone number.
Or, as Kumar would say, Mike who? Apparently, he's not the biggest basketball fan, (he had to Google Mike Brown to figure out why he kept getting congratulatory and condolence messages throughout the basketball season).
Too bad. If only Kumar knew the power he held in his hand. Just think of the awesome pranks he could have pulled if people thought he was calling from Mike Brown's phone.
First off the list would've been ordering LeBron to get to Quicken Loans Arena post haste and sweep up all that darn chalk.
And how easy would it be to finagle a free trip out to the West Coast? "Hello, LA Clippers, this is Mike Brown. I heard you're looking for a coach. Well, it just so happens that I'm a coach. And I'm looking for a job. Hit me back if you're interested. In fact, just mail tickets to me, c/o Rajesh Kumar. In fact, just book the ticket under the name Rajesh Kumar. That's my, uh, stage name."
Not a fan of the beach? Perhaps the city that never sleeps, then. Since apparently Mayor Bloomberg's office already tried to contact Mike Brown (but got Kumar instead). From the sound of things, Boomberg's lackeys were trying get an answer on LeBron's potential whereabouts. If that wasn't a golden opportunity to get a free ticket to anything in New York – "Fences" with Denzel Washington, a table at Peter Luger, a cameo on "Saturday Night Live" - we don't know what is.
And think of the fast one Kumar could have pulled on some prospective Cavs coaches. Is John Calipari really serious about staying in Kentucky? Maybe Kumar could have been the one to get the answer by texting him some links to some sweet craigslist postings. If Cal texted back with a :), we'd have our answer.
Of course, there's always the matter of exacting some revenge on the Celtics for knocking Mike Brown's now ex team out of the playoffs (Kumar might no be a hoops fan, but you still have to rep your phone buddy, right?). Kumar totally could have borrowed a page from Paul Pierce's twitter playbook (OK his hacked twitter playbook). Would a text to Pierce that read "Magic in 7" be ample payback for Pierce and the Cs ousting the Cavs from the postseason? No, but it'd be fun.
Finally, if Kumar were feeling really generous, he could always send the real Mike Brown some text support. "Hello Mike Brown. This is, you, Mike Brown. I think you've done a great job. Hang in there."