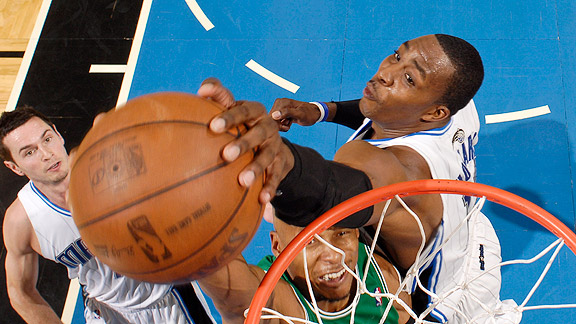 The Orlando Magic beat the Boston Celtics 113-92 to avoid elimination for the second straight game. Dwight Howard had another strong performance, finishing with 21 points, 10 rebounds, and 5 blocks. Celtics center Kendrick Perkins picked up two technical fouls, pushing his playoff total to seven. Unless one is rescinded, he will be suspended for Game 6. Another Celtics big man, Glen "Big Baby" Davis, suffered a concussion in the 3rd quarter, after taking an elbow in the face from Howard, and his status for Friday is unknown.
NFL commissioner Roger Goodell says he expects to decide this week when Ben Roethlisberger can rejoin the Steelers offseason workouts. Goodell says he planned to review the behavioral evaluation he ordered as part of Roethlisberger's six-game suspension, then "determine the next step."
After the jump: Mike Brown addresses Cleveland, Santana Moss legally saw Dr. Galea, Mark Buehrle's impostor, New Meadowlands Stadium looking for a name, and Germany suffers another injury.
Former Cavs head coach Mike Brown released a statement regarding his tenure in Cleveland. "The past 5 years have been an exceptional experience. I have been very fortunate to lead a group of men who I respect and thoroughly enjoyed coaching on a daily basis. At the same time, I was able to work alongside a terrific coaching staff and with Danny Ferry and a basketball operations team, all of whom I have a profound respect for."
Redskins receiver Santana Moss admits he received treatments from Dr. Anthony Galea, but none involving banned substances. Moss told teammates he received three treatments from the Canadian doctor who was charged last week with smuggling and supplying HGH. Redskins coach Mike Shanahan says he has spoken with Moss and is confident he will not be suspended.
Impostor Opens Buehrle Facebook Account
Someone is pretending to be White Sox ace Mark Buehrle and his mother doesn't like it. An impostor is operating a Facebook account in Buehrle's name and portraying him in an unfavorable light. This has caused some fans to complain to Buehrle's mother about his behavior. Buehrle has asked MLB's security department to investigate.
Ochocinco Suffers Workout Injury
Chad Ochocinco said he wasn't able to dance during Tuesday's season finale of Dancing with the Stars because of a workout-related injury. Ochocino posted on his Twitter account that, "I can't dance tonight due to injury, trying to squat 420 without a warm (warm-up) was dumb of me." Team sources say Ochocinco's injury is not serious and he should be ready for the June 15-17 mini-camp.
New Meadowlands Stadium May Get New Name
The naming rights for the $1.6 Billion New Meadowlands Stadium are still up for grabs. After landing Super Bowl XLVIII, those rights could be more attractive to sponsors. Some experts think the naming rights could bring in $20 million annually, revenue that the Giants and Jets would split.
Germany's Thomas Mueller Hurt in Bike Accident
Germany striker Thomas Mueller was cut on the chin and scraped his knee after falling off a mountain bike. The German soccer federation says Mueller needed stitches on his chin but his bones and muscles are fine and he will still play in the 2010 FIFA World Cup. Germany has been hit with a series of injuries to its World Cup squad. Captain Michael Ballack won't play because of an ankle injury he picked up in the FA Cup Finals.