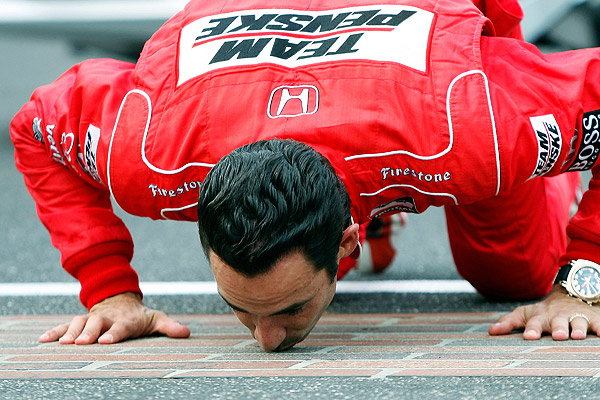 Jamie Squire/Getty Images
Well kiss our bricks, you too can drive like a champion if you drink the milk of Helio Catroneves.
Things we know will happen this Memorial Day Weekend: 1. The Stanley Cup Finals begin in earnest. 2. Some teams are going to get smoked like BBQ ribs as we crown the 2010 NBA Conference Champions. 3. Large, dangerous men will hit each other. Whether you're on vacation, "staycation" or on the clock, there's plenty of sports and swag for you to enjoy.
NBA Eastern Conference Finals Game 6: Magic at Celtics
Friday at 8:30 (ET)
Feeling less than 100 percent? Join the club with $14.95 bottle of Arthri Zen Relief Cream containing Meadowsweet, what the seller claims is "one of the three most sacred plants used by Celtic Druids." Boston could use some pain relief as several of its players will try to recover from concussions and other Game 5 injuries. The Celtics have two chances to close out the series, starting tonight.
Stanley Cup Finals Game 1: Flyers at Blackhawks
Saturday at 8 PM (ET)
Philadelphia and Chicago set the pace for the championship round as this unlikely match-up gets underway. If you're pulling for Chicago, imagine Patrick Kane and Jonathan Toews drubbing the Flyers and Phillies at the same time with this glossy Winter Classic photo. At $5.95, it's cheaper than a malted beverage. Philadelphia supporters, if you can't make it out to the Second City, what better way to watch the game than bathed in the gentle glow of your delicate 18-inch rice paper lamps? Only $24.99.
NBA Western Conference Finals Game 6: Lakers at Suns
Saturday at 8:30 (ET)
To paraphrase an old soccer saying, injuries are temporary, titles are forever. Whether Phoenix fights to a Game 7 on Memorial Day is anyone's guess, but regardless of what happens, this series has cemented Steve Nash as the face of the franchise -- literally. Twenty-five bones gets you this commemorative t-shirt immortalizing Steve's cyclop-sian eye. If you wait a bit, perhaps you could get the official shirt with Nash's busted nose.
UFC 114
Saturday at 10 PM (ET)
Rashad Evans and Quinton "Rampage" Jackson headline the card in the MGM Grand Garden Casino in Vegas. Evans probably won't give a toss that Jackson has movie premieres and press junkets in advance of the new A-Team movie. Perhaps he could violate a 3.75-inch B.A. Baracus movie tie-in figure for $12 instead and they could call it even?
Indianapolis 500
Sunday at 1 (ET)
Jack Nicholson will be on hand to be the honorary starter for the 94th running of this iconic race, probably because he'll need something to do even if the Lakers go to Game 7. Look for Will Power (yes, that's his name) to jockey for position with his teammate, last year's winner and "Dancing With the Stars" champion Helio Castroneves. By the way, if you want to drive with the best, consider picking up a few Helio Castroneves Milk Bottles for $12 each. Shipping and handling not included. We're can't vouch if the milk's still in there, or whether or not it was squeezed from Helio himself.
Livan Hernandez May Pitch His Last Game As Washington's Ace
Sunday at 4:05 (ET)
Poor Livan, resurrecting his career at the age of 34 with a 2.08 ERA and four wins as the de facto top of the Nationals' rotation. At least he still has a shot at incoming phenom Stephen Strasburg's one-of-a-kind 2010 Bowman Chrome Superfactor, currently pulling in a top bid of more than $16,000 on eBay. Insiders believe the rookie will make his debut sometime next week against the Pirates.