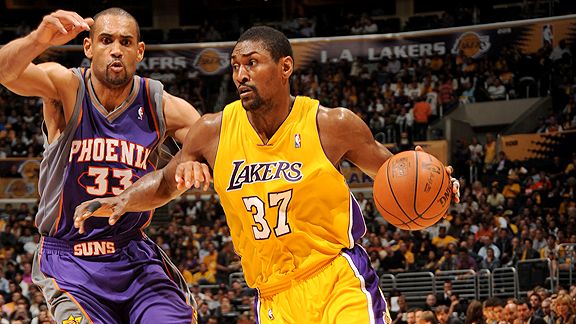 Andrew D. Bernstein/NBAE via Getty Images
Lakers Win Game 6 On Buzzer-Beater
Ron Artest went from goat to hero in the game's final moments as the Lakers beat the Suns in a dramatic Game 5, 103-101. Artest was 1 of 8 before he put back a Kobe Bryant air ball as the buzzer sounded. The Suns were led by Steve Nash's 29 points and 11 assists. Kobe Bryant scored 30 points for the 9th time in the last 10 games in the win. The Lakers now lead the series 3-2 and can close it out in Phoenix Saturday night. Game time is 8:30 pm ET on TNT and ESPN Radio.
Roethlisberger Cleared by Goodell
NFL Commissioner Roger Goodell advised the Steelers and Ben Roethlisberger that he is cleared to return to team activities next week, according to NFL spokesman Greg Aiello. Steelers president Art Rooney III was pleased with the news saying, "We look forward to having Ben re-join his teammates on the practice field."
Favre: "I'm not getting any younger."
In Minneapolis, Brett Favre talked about his ankle surgery and how last year with the Vikings was "the best season I've ever had." He added, "My biggest accomplishment was winning over the majority of Minnesota Vikings fans. I never thought I'd say that." When asked about coming back next year, Favre's response ... "Physically, I don't feel great ... I'm not getting any younger."
Big-Ticket Free Agents To Talk
Dwyane Wade has a big decision to make on where he'll sign this offseason, and before he makes it he says he'll talk it over with fellow big-ticket free agents LeBron James and Joe Johnson. "A lot of decisions [will be based on] what other players are willing to do and what other guys want to do. So it's not just a 'me' situation here."
Attorney: Randolph Not Involved In Case
A longtime friend of Memphis Grizzlies forward Zach Randolph faces drug charges after Indianapolis police said they found him driving the NBA star's SUV with a cooler containing marijuana. Randolph was not in the vehicle, has not been arrested and "adamantly denies" any involvement with drug activity, his attorney, John Tompkins, said Thursday.
Raiders File Grievance Against QB Russell
The Oakland Raiders want released QB JaMarcus Russell to repay them nearly $10 million dollars, according to Yahoo! Sports. The team wants the $9.55 million from Russell that was paid as salary advances for the 2010-12 seasons.
Jose Canseco plans to reiterate his previous support of Roger Clemens when the former slugger testifies before a federal grand jury next week. In a sworn statement, dated March 2008, Canseco wrote: "I have never seen Clemens use, possess, or ask for steroids or human growth hormone."
Shockey Suffers Seizure-Like Symptoms
New Orleans Saints TE Jeremy Shockey was rushed to a hospital after apparently suffering seizure-like symptoms during a weight training session according to NewOrleans.com. Shockey later tweeted from @JeremyShockey saying, "I am ok, thanks to everyone who has shown their concern don't worry about me I will be fine. WHO DAT!!
UConn Men's Basketball Investigation
The University of Connecticut has called a news conference to update the NCAA's investigation of its men's basketball program, which includes alleged recruiting violations. The resignations of assistant coach Patrick Sellers and director of basketball operations Beau Archibald will be announced, ESPN.com confirmed Thursday.
Pat Tillman, Desmond Howard In College Football Hall of Fame
14 newly elected members of the College Football Hall of Fame were announced today. 1991 Heisman Winner (and ESPN CFB analyst) Desmond Howard leads the class. Other notables: Arizona State's Pat Tillman and coaches Gene Stallings of Alabama and Barry Alvarez of Wisconsin.