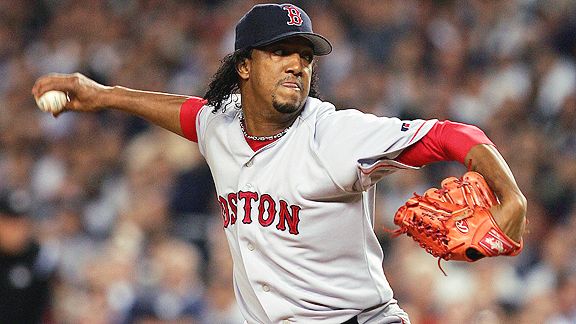 Ezra Shaw/Getty Images
While pitching in Boston, Pedro also suffered from the deadly Curse of the Mullet.
May 30, 2001: Pedro Martinez had a reason to feel confident. He'd just out-dueled Mike Mussina at Fenway Park, giving up just four hits and ringing up 13 Ks over eight innings as the Red Sox beat the Yankees 3-0. Mussina wasn't bad either, also surrendering four hits while striking out 11 of his own. However, Pedro was on a roll, boasting a 7-1 record and 1.44 ERA on the season. The victory also snapped a five-game losing streak to the Bronx Bombers. However, Pedro's cockiness was rising so high that nothing was taboo, especially the "Curse of the Bambino." In a post-game interview Martinez would utter one of the most infamous quotes in baseball history:
"I don't believe in d*** curses. Wake up the d*** Bambino and have me face him. Maybe I'll drill him in the [butt]."
It would be Pedro's last win against the Yankees for the rest of the season. Plagued by rotator cuff problems, he would only start seven more games that season, yielding an 0-2 record and a 4.54 ERA. The Yankees went on to sweep the Red Sox in the rest of the regular season games. Somewhere, Babe Ruth was probably having a good laugh.