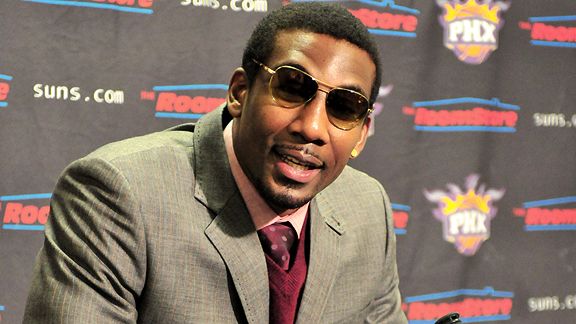 Photo: Barry Gossage/NBAE/Getty Images
What if I tweet about following the NBA dress code - is that ok?
The NBA has a new Twitter policy and there are consequences! Suns forward Amare Stoudemire (@amareisreal) and Bobcats forward Tyson Chandler (@Tysonchandler) were fined $7,500 each yesterday for tweeting during games last week.
As it turns out, Tyson's feed was triggered automatically during his game following an updated news post on his website. And Amare's feed was actually updated by his friend, Super Fan Jay. Fans may recall Jay from last year's Vote Amare campaign. Others will soon know him as the guy who has to clean Amare's pool to earn back the $7,500.
The NBA's fines under these circumstances raise more questions than they answer. For example, as Truehoop pointed out today in it's Early Monday Mini-Bullets, will there be a backlash from fans now that some players have admitted that they're not the authors of their own tweets? And do NBA execs need to have their kids educate them on the basics of our society's current technology so that unjust fines are no longer levied? And will prankster Dwight Howard set up Twitter feeds for rookies then have them all automatically update during the same game?
And can someone please explain why the real Charles Barkley isn't on Twitter yet?