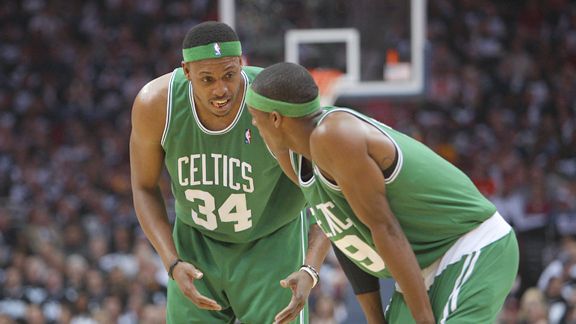 AP Photo/Mark Duncan
"Do you realize what this means? We may be the first team in the NBA Finals with a road-court advantage!"
Taking a look back at the week that was, one thing stands out. Not the last ever episode of LOST. Nor the last ever episode of 24. Nor Simon Cowell's last ever episode as a judge on American Idol. Wow, that's a lot of big lasts. No, what stands out for sports fans is that this past week has been all about firsts. Just check out some of the firsts below. And don't forget, as Ricky Bobby once said, "If you ain't first, you're last."
Dustin Byfuglien became the FIRST Blackhawks player ever to score in every game of a four-game playoff series sweep while leading Chicago to their FIRST Stanley Cup Finals appearance since 1992. And, Byfuglien became the FIRST player to accomplish this feat for any team in the Conference or Stanley Cup Finals since Sea Bass himself (Cam Neely) did it for the Bruins 20 years ago.
The Flyers advanced to their FIRST Stanley Cup Finals appearance since 1997 by defeating the Canadiens in five games. Although the Flyers have lost in each of their last five trips to the Stanley Cup Finals, this may be a good time to follow up on a 1997 effort. Just look at how it's worked out for James Cameron, whose epic Avatar was his FIRST feature film since Titanic, the 1997 Academy Award winner for Best Picture.
The FIRST go-round of interleague play is in the books for the 2010 MLB season and the NL has won 22 of the FIRST 42 matchups. Although the NL leads in home runs (41), the AL actually leads in runs scored (209). If the NL can hold on and win the interleague season series over the AL, it would be the FIRST time they've done so since 2003.
Super Bowl XLVIII (or "Super Bowl 48" for our non-ancient Roman readers) was awarded to New York/New Jersey in 2014. The game will be played at the new Meadowlands Stadium (in New Jersey, sorry New York), the FIRST time ever that a cold-weather city has hosted an outdoor Super Bowl. If the NFL continues its recent tradition of having the Super Bowl on the FIRST Sunday in February, it could become the FIRST Super Bowl with a game-time temperature below freezing.
And last, the Boston Celtics advanced to the NBA Finals for the twenty-FIRST time in franchise history and the second time in the past three years. But, the Celtics - wait for it... - are the FIRST team in NBA history to reach the NBA Finals after posting a better road record than home record in the regular season. The Celtics are also (last one, we promise) the FIRST 4-seed to reach the NBA Finals since the 2006 Mavericks.