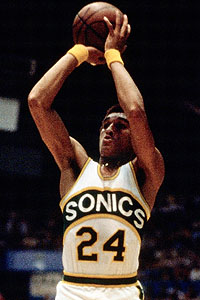 NBA Photo Library/Getty Images
Soak it up, Seattle. This one's all you've got.
June 1, 1979: Seattle never had a reputation of being the luckiest sports city in America. But today - and today only, as it would turn out - Seattle got to celebrate a national championship in a major professional sport, courtesy of the SuperSonics' 97-93 win over the Washington Bullets in Game 5 of the 1979 NBA Finals.
The series was a rematch of the 1978 Finals, in which the Bullets, led by Finals MVP Wes Unseld, beat the SuperSonics, 4-3. And before the series began, the Bullets seemed confident they would become the first team since the Boston Celtics (1968 and '69) to win back-to-back titles. They got off to a good start, winning Game 1 at home, 99-97.
But then Seattle's Dennis Johnson, who would become the Finals MVP, took over. The Sonics won four straight games to take the series, 4-1. In the final game of the series, Seattle's Gus Williams scored 23 points (eight in the final 3:25), while Johnson scored 21.
The win would be Seattle's only major pro title (not counting the Seattle Metropolitans of the Pacific Coast Hockey Association's Stanley Cup win in 1917). Since that day, the Seattle Seahawks made one trip to the Super Bowl (Super Bowl XL in the 2005 season), but lost to Pittsburgh. The Seattle Mariners are one of three teams to have never played in a World Series. And the Sonics, who made it back to the NBA Finals in the 1995-96 season, lost to Michael Jordan's Chicago Bulls and have since been relocated to Oklahoma City.