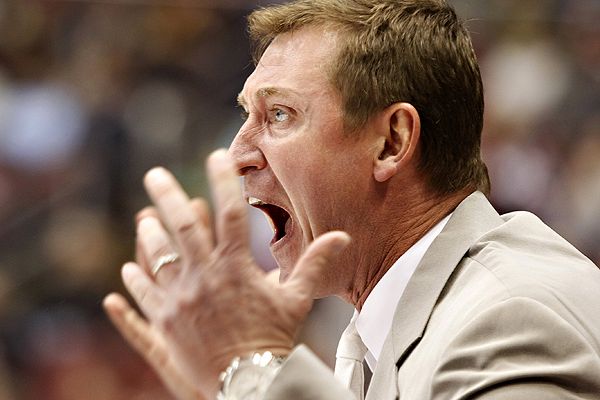 AP Photo/Rick Scuteri
We know it's frustrating to not be great at something, Wayne. Just remember, practice makes perfect.
Wayne Gretzky is not very good at hockey. Oh, sorry. Excuse us. Wayne Gretzky is not very good at video game hockey (slight difference). At least, that's what he told the Toronto Sun. And why is this such a big deal? Because the Great One is on the cover of NHL Slapshot, a new Nintendo Wii game where players use a mini hockey stick as a controller.
The Toronto Sun says the game has not been officially announced yet, but EA Sports (the maker of the game) plans to unveil it today. The Sun says it will hit stores Sept. 7, along with NHL 11 for Xbox 360 and PS3.
So, the way we see it, Gretzky has about three months to get in Wii shape. Because, by his own admission, "I'm still an amateur at it, I'm not very good. (My kids are) much better at it than I am." And we can't have the cover boy of the game stink at it. That would be like SI Swimsuit Edition cover girl Brooklyn Decker being bad at sunbathing. Or something. Just go with it. Anyway, there are several things Gretzky can do to improve his Wii hockey prowess. Hopefully, he takes our advice sooner rather than later.
Just like in real sports, it's important to warm up before playing video game sports. So, before jumping into hockey cold turkey, Gretzky would be wise to try easing into it by practicing with some Wii bowling and tennis. Just, be careful and make sure to use the safety straps, lest you end up like this poor guy.
Also, as any great athlete knows, watching film is an important part of training. Well, we have just the film for Gretzky to watch — it's both instructional and motivational. That's right, we're talking about the 1989 classic "The Wizard," starring the one and only Fred Savage. If the story of Mr. Savage and his institutionalized brother on a cross-country journey to the world's greatest video championship doesn't inspire Gretzky to step it up in the living room, then, quite honestly, we don't know what will.
However, it is true that there's only so much a video game athlete can do on his own. Surely Gretzky, a former coach himself, knows the value of a strong guiding hand. Luckily, there is such a thing as a video game coach. We'll say that again; there is such a thing as a video game coach. We, uh, really don't know what to add to that statement.
And finally, and we imagine no one knows this better than Gretzky himself, it's all about practice. So the Great One simply has to bite the bullet, throw NHL Slapshot into the old Wii system, and play it over and over and over again. He just ought to be careful and make sure he warms up, cools down, and ices any injuries that may occur. Because once you end up like Joel Zumaya, the Detroit pitcher who injured himself playing too much Guitar Hero, there's no turning back.