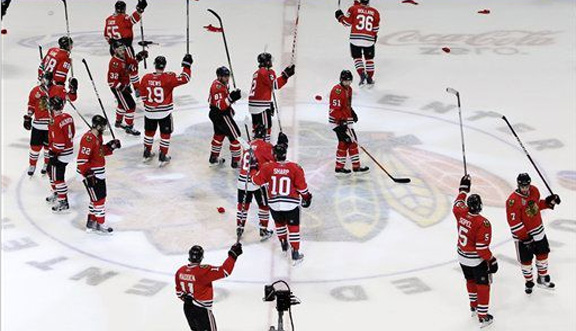 Blackhawks Take a 2-0 Series Lead
After a 6-5 shootout in Game 1, the Blackhawks and Flyers played a defensive Game 2, especially Chicago goalie Antti Niemi. Niemi bounced back from a shaky opening game to stop 32 of the 33 shots he faced as the Blackhawks won Game 2, 2-1. Marian Hossa and Ben Eager scored within 28 seconds of each other to give the Hawks a 2-0 lead after two periods. Philly scored once in the 3rd but couldn't get the equalizer past Niemi.
Jimenéz Continues Remarkable Start
It's gotten to the point where you wonder if Ubaldo Jimenéz will ever give up an earned run again. The Rockies beat the Giants 4-0 Monday behind a complete-game shutout from their ace. Jimenéz gave up just four hits, three to 1B Pablo Sandoval, and added 9 strikeouts. He also became the first 10-game winner in MLB and lowered his league-leading ERA to 0.78.
Strasburg Debut Set for June 8
The most anticipated rookie debut in recent memory now has a date. The Washington Nationals announced that phenom Stephen Strasburg will make his MLB debut on June 8, against the Pittsburgh Pirates. Strasburg, the No. 1 overall pick in the 2009 Draft, has been dominant in the minors. He is a combined 6-2 with a 1.43 ERA and 60 strikeouts in 50 1/3 innings for Double-A Harrisburg and Triple-A Syracuse.
Two Key Celtics Fighting Through Injuries
Rajon Rondo and Rasheed Wallace were both limited during the Boston Celtics practice session Monday. Rondo played through muscle spasms during the Eastern Conference Finals and is still feeling the effects. He participated in 3/4 of practice according to head coach Doc Rivers. Wallace is also suffering from back spasms but his seem to be more serious. Rivers kept Wallace out of contact drills in practice and his status for Game 1 against the Lakers on Thursday is unknown.
Stoudemire Wants In On Free Agent Summit
Dwyane Wade suggested last week that the premier NBA free agents meet this off-season. If they do, then Amar'e Stoudemire wants in, according to FanHouse.com. "I'm friends with LeBron [James], Dwyane, Chris [Bosh]. So I'm pretty sure they'll call me and we'll talk about a few things," he said.
Barnes Opts Out, But Hopes To Remain With Magic
Matt Barnes might not go to the summit with LeBron and company, but he did say he will opt out of the final year of his contract with the Orlando Magic and become a free agent. Barnes hopes he impressed the Magic enough for them "to bring me back and give me something decent."
Conway Out With Broken Leg And Back
IndyCar driver Mike Conway is recovering from surgery to repair his broken left leg following Sunday's horrific crash in the Indianapolis 500. Conway's team said today that he has also been diagnosed with a compression fracture in his back. He is expected to miss at least three months for his Dreyer & Reinbold team.
U.S. Team Arrives in South Africa
The U.S. World Cup team arrived in Johannesburg following a 17-hour flight Monday. The U.S. players will stay at the Irene Country Lodge, a luxurious, rural-style hotel in a village between Johannesburg and the capital city Pretoria. That's where the Team USA will begin getting used to the cool, early winter conditions ahead of a final exhibition match against Australia on Saturday.
Adidas 2010 FIFA World Cup Ball Debate
Adidas has responded to criticism that its 2010 FIFA World Cup ball is difficult to control and a nightmare for goalkeepers, saying it was widely tested and approved long ago. Company spokesman Thomas van Schaik said Monday he was surprised to hear the criticisms because the balls had been used for months without any complaints.
Oliver Perez buried himself deeper in the Mets bullpen with his most recent outing, and the team is still trying to get him to work out his problems in the minors. Jerry Manuel said the idea of asking Perez to go to the minors is "something that's ongoing." The manager also said "it's going to be tough to find spots" to use Perez, who was banished to the bullpen earlier this month but has refused to be sent to the minors.