Chicago Blackhawks at Philadelphia Flyers -- Game 3 -- (Blackhawks lead series 2-0)
8:00 PM ET -- Wachovia Center, Philadelphia, Pennsylvania -- Versus
The Flyers face the Blackhawks in Game 3 tonight and are under a ton of pressure. Since the NHL went to best-of-7 in the Cup Final in 1939, teams winning both Games 1 and 2 have won the Cup 41 of 45 times. Both teams are riding streaks but only one is something to be proud of. The Flyers have lost seven straight Stanley Cup Final games, while the Blackhawks have won their last seven road playoff games, tying an NHL playoff record.
Game Preview: CHI vs. PHI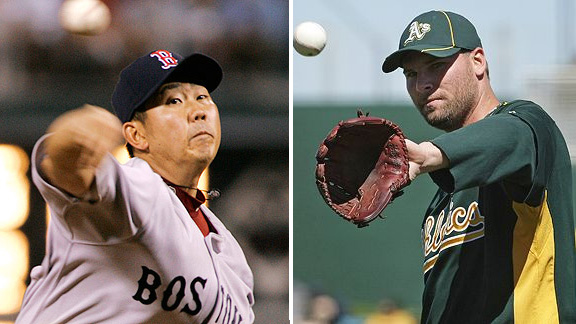 AP Photo/Tom Mihalek/AP Photo/Tony Dejak
Oakland Athletics (28-25) at Boston Red Sox (30-23)
7:10 PM ET -- Fenway Park, Boston, Massachusetts
Starting Pitchers
Oakland: Ben Sheets (2-3, 4.91 ERA)
Boston: Daisuke Matsuzaka (3-2, 5.77 ERA)
Both Ben Sheets and Daisuke Matsuzaka are looking to establish consistency with their teams. Oakland's RHP Sheets, who has never faced the Red Sox, hasn't won since May 8, but is rounding into form after missing all of 2009 recovering from elbow surgery. He's 1-0 with a 2.81 ERA in his last five starts, helping the A's to four wins in that stretch. Boston's Matsuzaka walked eight batters in his most recent start, but looks to recover and pitch the surging Red Sox to their fourth-straight victory. The teams continue their three-game set tonight.
Game Preview: OAK vs. BOS
Scott Rovak/US Presswire
Cincinnati Reds (31-22) at St. Louis Cardinals (30-23)
8:15 PM ET -- Busch Stadium, St. Louis, Missouri
Starting Pitchers
Cincinnati: Sam LeCure (1-0, 3.00 ERA)
St. Louis: Chris Carpenter (6-1, 2.93 ERA)
A battle for first in the National League Central tonight in St. Louis. Cardinal's right-hander Chris Carpenter owns the Reds, winning his last seven starts against Cincinnati going all the way back to Aug. 15, 2006. Overall, he is 9-3 with a 2.03 ERA in 15 career starts against the Reds. The surprising Reds will try to hang on to sole possesion of 1st place behind the hot hitting of Scott Rolen. The Reds 3B - and former Cardinal - had three hits, including 2 HRs, in Tuesday's 9-8 win over the Cards. His 13 HRs total are good enough for 2nd in the NL.
Game Preview: CIN vs. STL
Note: The Elias Sports Bureau and ESPN Stats and Information group contributed to this report.