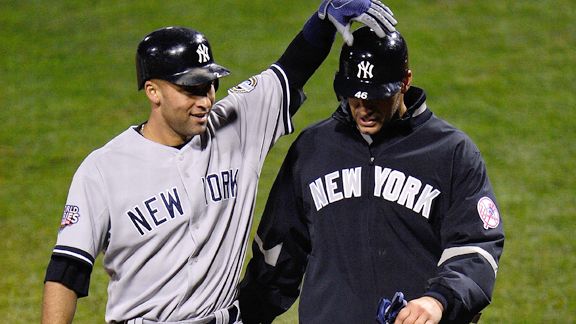 Photo: Jeff Zelevansky/Getty Images
Andy, can you spare some room in your trophy case for this Sportsman of the Year Award? I'm all full.
Derek Jeter was named SI Sportsman of the year today. Shockingly, Jeter is the first Yankee to win the award since it's inception in 1954. SI Group editor Terry McDonell commented on Jeter's award by saying, "He's so classy, he brings a dignity and elegance to the game." If being classy was the only factor in this decision then "Mr. Debonaire," George Clooney may have been snubbed by SI for his role in the 2008 football film Leatherheads.
After being notified that he had received the award, Jeter said, "It's one of the greatest honors you can achieve in sports." We thought that was dating the trio of superstar movie-athletes Jessica Alba, Jessica Biel and Scarlett Johansson, but maybe that's just a tomato/tomahto thing. Winning this award puts Jeter alongside some of the greatest athletes of the last 55 years. Below are some of their possible reactions upon first hearing of their achievement.
Roger Bannister, 54' First sub-4 minute mile – "This would have been much easier on a Segway."
Terry Bradshaw, 79' Super Bowl MVP – "Being Hulk Hogan's doppelganger must have gotten me votes from all those Hulkamaniacs out there."
Ingemar Johansson, 59' World Heavyweight Boxing Champ – "With warm-up gear like this, that should have been me in The Hangover, not that fashion-less Tyson."
Bobby Orr, 70', NHL MVP – "This award almost makes up for landing face first on the ice after The Goal."
Randy Johnson, 01' Co-MVP of the WS and Cy Young – "I'd like to dedicate this award to my amazing curls and that bird I blew up."
Brett Favre, 07', For his "perseverance & passion" – "Maybe you guys should wait a few years for this one. I don't think this will be my last press conference."