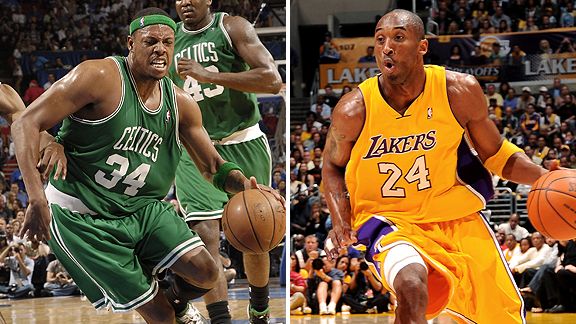 Getty Images
Boston Celtics at Los Angeles Lakers -- Game 1
9:00 PM ET -- STAPLES Center, Los Angeles, CA -- ABC, ESPN Radio
This is the 64th NBA Finals and the 12th time the Lakers and Celtics have faced one another for the title. Both teams have combined for 52 Finals appearances and 32 NBA titles. The Celtics are in the NBA Finals for 21st time in franchise history (2nd-most all-time behind Lakers' 31). Boston is 17-3 all-time in the NBA Finals and is appearing for the 2nd time in the last 3 seasons. The Celtics are the first team in NBA history to reach the NBA Finals after posting a better road record than home record in the regular season. The Lakers have won 11-straight home playoff games, which is their longest such streak since a 13-game streak spanning their championship seasons of 1987 and 1988. Winning Game 1 is key. In NBA history, the team that wins the first game of the NBA Finals wins the series 73.0% of the time (46-17).
Game Preview: BOS vs LAL
Texas Rangers (28-24) at Chicago White Sox (22-30)
8:10 PM ET -- U.S. Cellular Field, Chicago, Illinois
Starting Pitchers:
Texas: Colby Lewis (4-3, 3.41 ERA)
Chicago: Freddy Garcia (4-3, 5.26 ERA)
The first-place Rangers -- 4-1 against Chicago this season -- are on the verge of sweeping their first road series against the White Sox in 24 years. Josh Hamilton had three hits in Wednesday's win and is 12 for 23 with five RBIs against the White Sox this season. Chicago hopes Paul Konerko's hot bat can help their cause. Konerko homered twice and drove in four runs Wednesday for the White Sox, who look to avoid their first three-game skid since losing four straight April 15-18. Four of Konerko's team-leading 16 home runs have come in five games against Texas this season. He is just 2 for 10, however, against tonight's pitcher Colby Lewis.
Game Preview: TEX vs CHW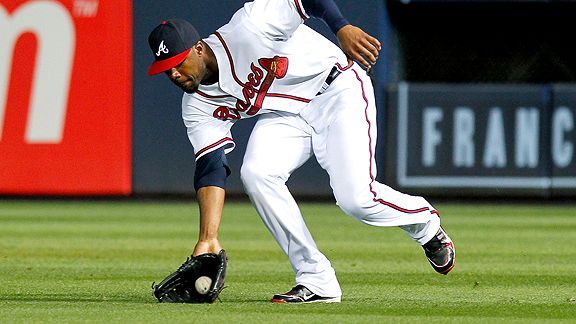 Kevin C. Cox/Getty Images
Los Angeles Dodgers (31-22) at Atlanta Braves (31-22)
10:10 PM ET -- Dodger Stadium, Los Angeles, California
Starting Pitchers:
Atlanta: Kris Medlen (2-1, 2.85 ERA)
Los Angeles: Hiroki Kuroda (5-3, 3.55 ERA)
The Atlanta Braves and Los Angeles Dodgers have identical records and lately, both have been winning. The Braves have won a season-high 8-straight games, matching their longest win streak since July 2003. They've won 13 of their last 15 games overall and 9-straight home games. Rookie Jason Heyward leads the first-place Braves with 10 HRs. The Braves are on the road tonight facing a Dodgers team who is seeking its fifth-straight win, the last three coming from walk offs. Los Angeles trails the Padres by one game for first place in the NL West.
Game Preview: LAD vs ATL
Note: The Elias Sports Bureau and ESPN Stats and Information group contributed to this report.