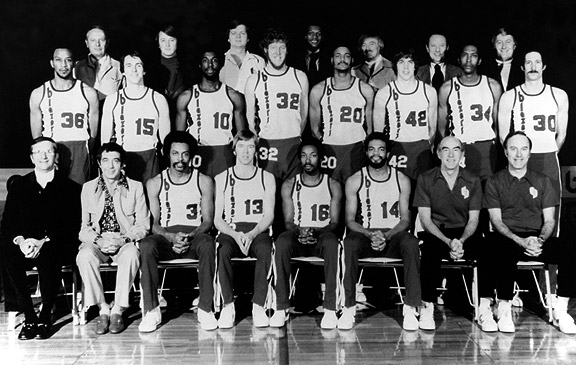 NBA Photos/NBAE/Getty Images
So many Blazers wearing so few blazers.
June 5, 1977: Portland currently has only one major professional sports team (although the Portland Timbers will join MLS in 2011) and has won only one major professional sports championship. In 1977, the Portland Trail Blazers won it all at home, defeating Dr. J and the 76ers in six games.
The Sixers, heavy favorites to win the Finals, finished 1st in the Atlantic Division and jumped out to an early lead, taking the first two games in Portland. Julius Erving, in his first season with Philadelphia following the final season of the ABA, scored 33 points on the way to a 107-101 win over Portland in Game 1. Bill Walton scored 28 and cleared 20 boards, but the Blazers appeared outmatched.
In Game 2, Dr, J and the Sixers were even more commanding, winning 107-89, but it was a brawl that broke out in the final five minutes that most fans remember. For whatever reason, it seemed to be the thing that triggered the Blazers as well. After the fight, which saw Doug Collins needing stitches, the Trail Blazers bonded, found their unity, and never looked back.
Taking the next three games, Portland returned home for Game 6 on June 5. Philadelphia made a game of it, getting to within two of Portland in the final 18 seconds. But after Erving and World B. Free both missed shots, George McGinnis clanged a potential buzzer-beater off the rim and the Rose City had its first (and only) NBA Championship.
Bill Walton led the playoffs in total rebounds, assists, blocks and was named Finals MVP. Blazermania was on. After a ferocious 50-10 start at the beginning of the 1978 season, fans were starting to talk dynasty until Walton suffered a foot injury that ended his season. Neither he nor the Blazers were ever the same after that but for one glorious year, Portland was the center of the basketball universe.