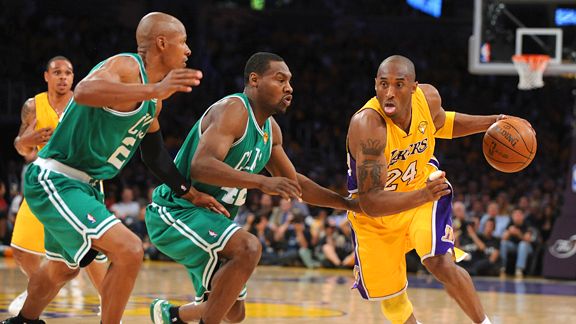 Mark Ralston/Getty Images
Lakers Hold Court Against Celtics, Win Game 1
Kobe Bryant scores 30 points, adds 7 rebounds and 6 assists, leading his team to a 102-89 victory over the Celtics. Paul Pierce led Boston with 24 points and 9 rebounds in a losing effort. Game 2 is Sunday in Los Angeles at 8:00 pm ET on ABC and ESPN Radio.
John Wooden Hospitalized In Grave Condition
Former UCLA coach and Hall of Famer John Wooden is in grave condition, being treated at UCLA Medical Center, according to multiple media reports Thursday. Wooden, 99, is confined to a wheelchair after a series of health setbacks in recent years.
Woods Returns, 7 Back Of Co-Leaders
Tiger Woods returned to action Thursday, shooting even-par 72 during the opening round of the Memorial Tournament at Muirfield Village Golf Club. Tiger's effort is his first round since withdrawing from The Players Championship with a neck injury. Woods is seven strokes back of first-round co-leaders Geoff Ogilvy, Justin Rose and Rickie Fowler.
Selig Won't Overturn Missed Call
Baseball commissioner Bud Selig said he would look at the game's umpiring system and the expanded use of instant replay, but he won't reverse the blown call that cost Armando Galarraga of the Detroit Tigers a perfect game Wednesday night.
Orioles To Reportedly Fire Trembley
Baltimore Orioles manager Dave Trembley will soon be looking for work soon. This according to ESPN The Magazine's Buster Olney. The Orioles, who have lost 8-straight games, plan to fire Trembley, but the exact timing for such a move is unknown.
The first player selected in last year's MLB draft ended his minor league stay in fashion. Stephen Strasburg wrapped up his 2-month stint in the minors, pitching 5 innings of 3-hit ball against Buffalo in Triple A. Strasburg is scheduled to start for the Nationals Tuesday against Pittsburgh.
Following a six-game suspension for violating the NFL's personal conduct policy, Ben Roethlisberger says he's striving to make better decisions in life and is receiving help from NFL commissioner Roger Goodell. The Steelers QB spoke briefly on Thursday, his first public comments since the suspension April 21.
Canseco Testifies He Never Saw Clemens Use Steroids
Former MLB slugger Jose Canseco went to bat for Roger Clemens today. Canseco says he told a federal grand jury that he had never seen the seven-time Cy Young Award winner Roger Clemens use steroids. Canseco maintained the support he's long held for Clemens, which he first stated in a March 2008 affidavit.
Mandela To Attend 2010 FIFA World Cup
South Africa's national soccer team welcomed Nelson Mandela today and will see him on game day too. It was also announced that Mandela will make a rare public appearance at next week's tournament opener, between South Africa and Mexico, as well as the July 11 final.
USC Won't Hear From NCAA Friday
USC will apparently have to wait beyond Friday to learn the outcome of an NCAA investigation into the school's football and basketball programs. The NCAA committee on infractions report will not be released on Friday as was earlier expected.