Lakers 102, Celtics 89 (Lakers lead NBA Finals, 1-0)
From the opening tip of the opening game of the NBA Finals, the Lakers sent the Celtics a message. We can play physical, too. Every one of the following statistics has an element of pushing, shoving and hustling, and every one of them went the Lakers' way:
Second-chance points: Lakers 16, Celtics 0.
Points in the paint: Lakers 48, Celtics 30.
Rebounds: Lakers 42, Celtics 31.
Kobe Bryant scored a game-high 30 points to lead the Lakers to a 102-89 win. In NBA Finals history, the team that won Game 1 went on to win the series 73.0 pct of the time (46-17). Bryant and Phil Jackson get their 111th career win together, passing Jackson and Scottie Pippen for most by a player-coach duo in NBA history. Boston drops to 0-5 this postseason when allowing 100 points.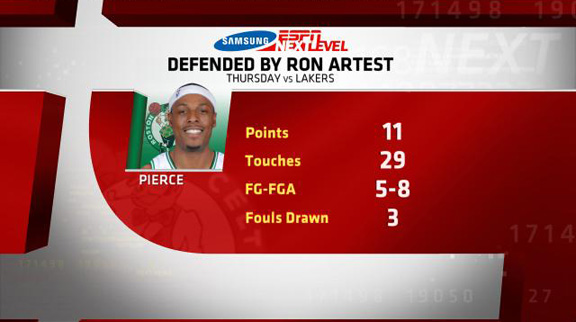 Despite all the talk that Ron Artest was going to shut down Paul Pierce, Pierce performed well against Artest. Pierce scored 11 points on 5-8 shooting and was also able to draw 3 fouls in his 29 touches against Artest.
One of the reasons the Lakers lost the 2008 Finals to the Celtics was the inability of their frontcourt to play well but that was certainly not the case Thursday night. Gasol, Bynum and Artest combined for 48 points and out-rebounded the Celtics starting frontcourt 24-16.